Getting respect is a basic right of every individual. It is never based on how good a person is. Rather, you are required to give respect to every one according to how kind and nice as a human being you are. So, no matter in which walk of life you are, you must always remember that people around you deserve your regard from you.
To teach how to give respect to others, different organizations come up with different strategies. One of the most successful strategies is to write a warning letter to the person who shows disrespect towards others.
What is a warning letter for disrespect?
This is a basic reprimand letter that a person writes to the individual who has showcased bad behavior and regards others with his bad tone and offensive choice of words. This letter is always sent by those who have the authority to rebuke others when they are acting below the belt.
When to write?
Teachers and principals of the institutions have the authority to write this letter to those wayward lads and lasses who don't show respect for their teachers and other mates. Employers also warn their employees when they find that they are not behaving rudely and should be reprimanded. A warning letter is something offensive and no one wants to face it. Therefore, in most situations, it works well.
The warning letter lets the reader know that his bad attitude has been noticed and now strict actions can be taken. So, he tries to improve himself to get away with grave consequences.
How to write?
When you write the reprimand letter, follow the tips given below:
Warn the recipient at the start:
You don't need to wait till the end to reprimand the person who has been found guilty or make others feel low with his words and actions. Do it right away in the start and make sure that you have a serious tone to make the reader realize the seriousness of the situation.
Mention the reason:
If the reason is wondering what had made you write this letter, you should not make him keep wondering and simply tell him that he was rude and brash. To give strength to your point of view, tell him that he was under observation and his co-workers have also complained against him. This way, he will never refuse to have been rude.
Ask him to improve:
Since you want the employee to improve, say clearly to him that you want to see improvement in his behavior and this is the reason you have not terminated him from the job and decided to give him one chance. However, tell him that if he does not avail this chance and continues to be disrespectful towards others, then there will be very serious consequences he will have to contend with.
If you want to draft a warning letter in such a way that it can impact the reader's mind, you should read the sample letter given below.
Sample letter:
Subject: Warning letter due to disrespect at the workplace
Dear Mr. ABC,
This letter is being written to let you know that the company has been observing your performance for many days and we are regretful to let you know that you are not only lacking dedication for work but also acting disrespectfully with others. Your behavior has badly disappointed the company.
Many of your co-workers have also complained about your bad behavior and they say that they don't want to interact with you because of the rude tone you use with them. There are also some incidents when you misbehaved with the supervisor also.
We would like to let you know that this type of attitude is not bearable in the organization as it affects the environment badly. We are giving you one chance that you can use as an opportunity to change and improve your behavior. Please consider this letter as a final warning from the company. We expect that you will improve your attitude and you will try to maintain your position.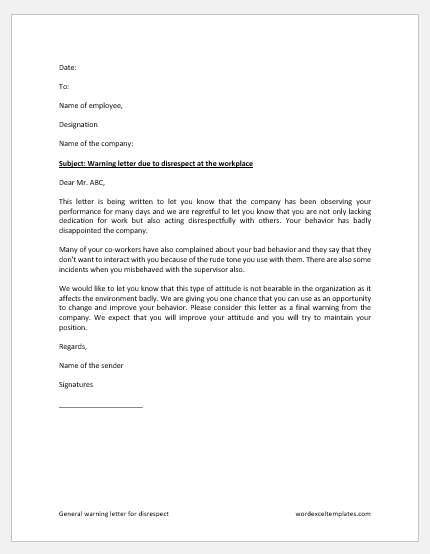 File: Word (.docx) & iPad
Size 21 KB
See also: