Almost every doctor uses the letterhead during his job. A letterhead is a document which contains the information about the doctor and his hospital. The doctors use these documents for writing a prescription. It becomes a proof that the particular prescription has been written by the doctor whose name is mentioned in the letterhead.
How to use doctor's letterhead templates:
The first step to use this template is to choose the design of your choice.
You could change the color scheme of the design if you did not like the default.
Add your details such as your name, specialization details, clinic timings, etc.
Print the template
Details of the letterhead:
There are different details that you, as a doctor would like to add in your letterhead. Some of the common details are:
The name and qualification of the doctor
The name of doctor's clinic
Clinic's contact details
Timings of the clinic
Some doctors also incorporate different designs in the letterhead to make it look beautiful. The design of the letterhead should be simple so that it will look professional.
Doctor's letterhead templates:
The templates are available on this website which is easy to use and free to download. It also contains various designs so that the uniqueness can be maintained. You can choose from the designs that you like.
The templates can be customized by adding the text, image, logo and some other details according to your choice. The main purpose of using this template is to get a professional looking document that would be difficult for you to prepare yourself.
These templates are used by doctors when they want to get a ready-made letterhead instead of preparing it from scratch. These templates enable the user to get an authentic and unique letterhead.
All you have to do is put your information in it, and it is ready to use. The easy to edit feature makes it very popular in the field. No matter which type of user is using, the easy to understand user interface makes these templates very easy to use.
Preview and Details of Templates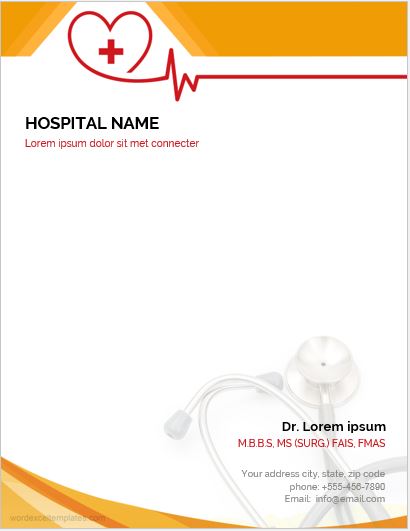 Doctor's Letterhead Template -1
File: Word (.doc) 2003+ and iPad 
Size 942 Kb | Download
License: ENERGY [Personal Use Only]
---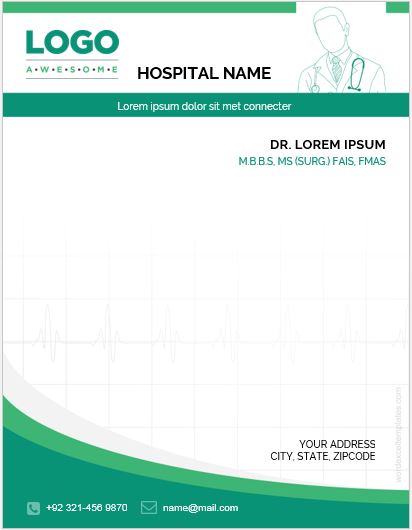 Template -2
File: Word (.doc) 2003+ and iPad 
Size 832 Kb | Download
License: ENERGY [Personal Use Only]
---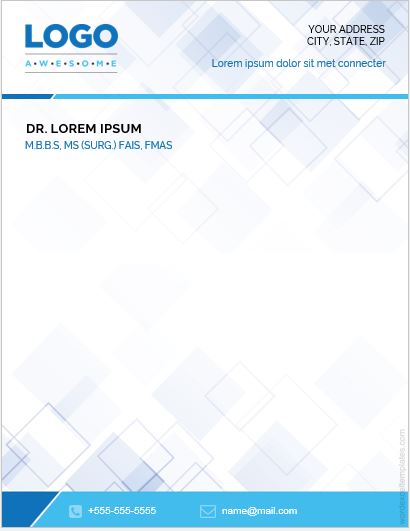 Template -3
File: Word (.doc) 2003+ and iPad 
Size 1390 Kb | Download
License: ENERGY [Personal Use Only]
---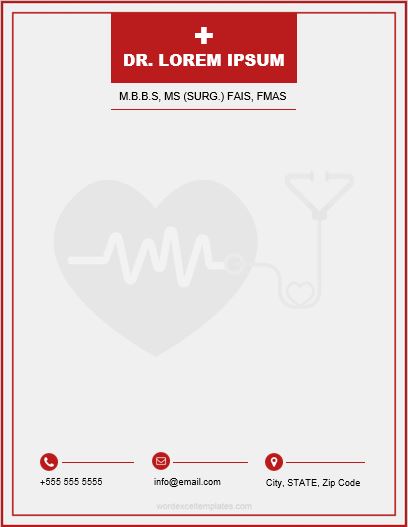 Template -4
File: Word (.doc) 2003+ and iPad 
Size 342 Kb | Download
License: ENERGY [Personal Use Only]
---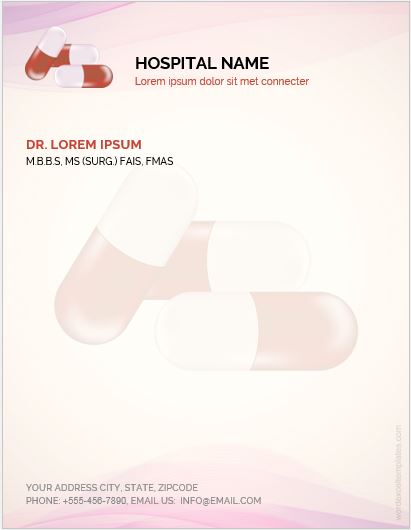 Template -5
File: Word (.doc) 2003+ and iPad 
Size 2.4 Mb | Download
License: ENERGY [Personal Use Only]