Letter #1
Re. Residential Cleaning Services Proposal Letter

Dear Sir,
I happened to go through the advertisement for your Green Township Program which is asking for proposals for cleaning services. In this post-modernist society, it has become really hard for people to manage things and keep the mess in one place to make the clean and peaceful ambiance sure. Clean houses are happier and more peaceful abode than any other one.
We have specialized and credible staff for residential cleaning which includes dusting, polishing, and hovering the home all around to unmark each and every bit of mess. We offer different packages for different residents depending upon the interest of the client's house, the size of the residence, the number of family members, or the number of tasks to be done within a certain time limit. We also offer full-time services for houses with more than 100 square meters of space.
We have different packages from basic cleaning, spring cleaning, and laundry to pressure and premium cleaning. We prefer quality over quantity and therefore, our packages are in accordance with the service providence.
We have professional cleaners who are tidy and clean in themselves and make sure the service complete and satisfactory. We also provide double shifts by shifting the workers depending on the facility hours of the client.
You can contact us at +[C] for further details or queries. Thank you.
Regards
Yellow Service Providers
Simon H Sector, 8/12th Sea Roy, Manhattan, New York, USA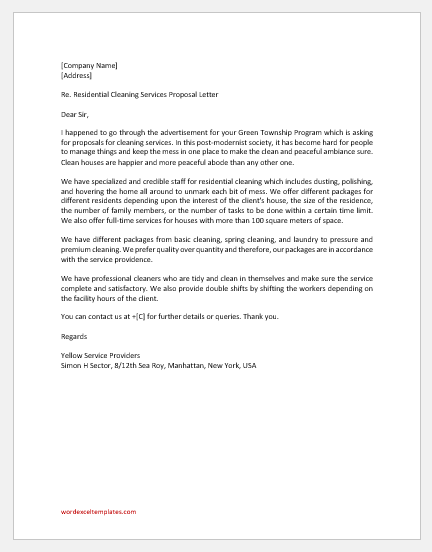 File: Word (.docx) 2007+ and iPad
Size 21 Kb
Download
---
Letter #2
Re. Proposal on Providing Services for Commercial Cleaning Contract
Dear Sir/Madam
This letter serves as a request/cover letter for the contract of cleaning services. We provide services in most of the commercial sectors. We provide cleaning services on both residential and commercial terms. We have a professional and dedicated staff for the offices, shopping malls, and luxury hotels. Our services extend to the lay-by areas and to the educational institutes.
Our service providence methodology is different from the market as we train our staff according to the specific area of work. We train them and conduct special sessions after gaining enough analysis and ideas for the working area. If our service is being provided to the educational institutes, we train our staff accordingly to develop a good sense of communication and a standard code of conduct. We also track their demeanor by asking for continuous feedback from our clients.
We have attached a copy of our packages provided for the cleaning services in your office. Our packages are patterned according to the demands made by the clients. We structure our packages per square meter, square feet, floors, number of rooms, and other different instruments. We request you to consider our services as we offer the services at considerably cheaper rates than the market by keeping the quality in work.
Please write to us for further details at [email] or call us at +[X] to fulfill any other queries. Thank you.
Regards
S-Clack Services
34A Chief Avenue, Lockhart Heights, New York, New York, USA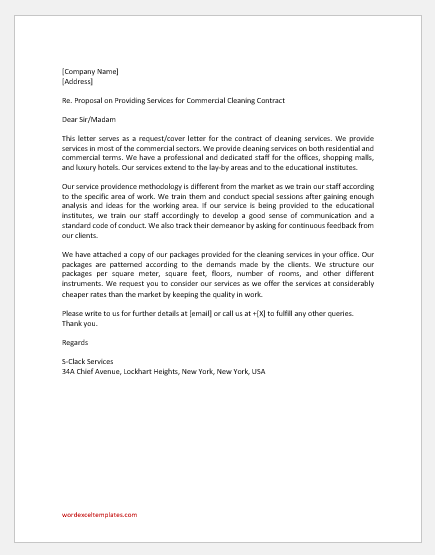 File: Word (.docx) 2007+ and iPad
Size 20 Kb
Download
---