What is a back pay request letter?
This is a letter that is written when you come to know that the company where you are working or the person who you are working for owes you the back pay and you want to ask him to pay you back. In simple words, whenever there is some sort of unpaid financial work that needs to be compensated, it is an ideal time for you to ask for back pay.
It is important to know that the employer will write this letter at the end of his service contract with the company. So, it is also known as a final payment.
Who should write the request to pay you back letter?
If you manage to make your letter reach the concerned authorities, you will get a response. Therefore, always write this letter to the hiring manager of the company who knows how to deal with the unpaid salary-related issues.
When to write the back pay request letter?
Some of the common scenarios in which you can choose to write this request letter include:
When you know that there are a few days you have worked but you have not been paid for those days.
When you were prevented by the company to work that you could have done and the company has not paid you even though you were committed to doing that work and get paid.
Guidelines to draft the back pay letter?
Give your introduction:
The back pay letter is for employees who have just left the company and want their due funds to be cleared. In this letter, the employee generally communicated with his employer who might not identify him unless he provides him his introductory details.
Claim back pay:
Since it is a request letter, you can close it without making a formal request respectfully. So, ask the employer to clear the payment that the company owes you. While you put forward the request, make sure that you remain respectful and never show how annoyed you are due to non-payment.
If your boss has already promised you to pay back your salary, mention the amount that he was committed to paying.
Explain the situation:
Sometimes, the circumstances are different and the situation in which you were not paid was a bit different. For instance, if you applied for unpaid leave but then you did not go on leave and the company did not pay you for those days because of not updating the record, you can explain the entire situation and give some proof to support your claim.
Make appropriate closing of the letter:
In the end, you are required to remain positive and show the expectations that you have from the company. in case you have calculated the payment to be made to you, mention the amount. Close the letter by telling the employer that you are looking forward to his reply. Also, mention your phone number or email address to contact you.
Tips for claiming unpaid salary:
You should be a little conscious as to what you are writing. Let us see some of the tips:
Don't try to express anger because of not being paid. Even if your request has not been given attention in the past, talk about it but don't express your anger.
Keep the letter short even if you have to explain the unpaid days.
Give your account details where the money can be transferred.
Sample back pay request letter:
Date:
Subject: Request letter for back pay
Dear Mr. ABC,
I am (mention your name) working as a sales manager in the sales department of your company. My employee number is XY424. This letter is being written to formally request you to pay me my salary for the last 10 days of the previous month. The unpaid days are from 21st August 20XX to 1st Sep 20XX.
If you need information further, you can contact me anytime and ask me. I hope that this letter will be able to get your immediate response. I am looking forward to your kind response.
Regards,
Yours sincerely,
Name of the employee
Signatures
___________________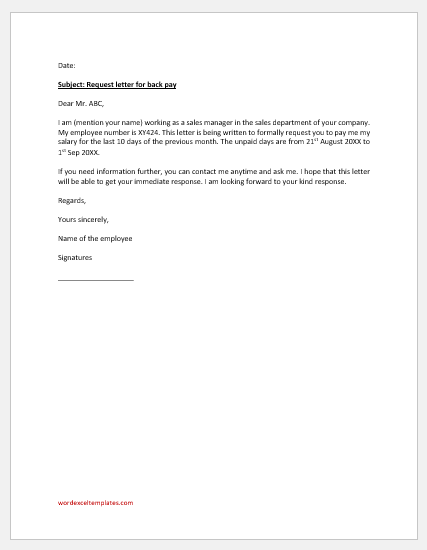 File: Word (.docx) 2007+ and iPad
Size 15 KB