Professional Receipts
Auto repair pertains to fixing faults in vehicles of all kinds. The professional who deals with it is called a mechanic. When you do business with an auto repair company or a professional mechanic then at the end of the job he would present you with an invoice called the auto repair receipt.
The auto repair receipt holds the information about all the repairing work done on the vehicle with details and the amount that is charged for the work done. Sometimes when you are facing problems with your vehicle or automobile, you can't understand because as a layman you can't understand the mechanism of the car. Different cars have a different interior functioning and only a professional specially trained in the field is capable of doing that.
Nowadays the automobiles are semi or fully computerized and only a trained professional can handle the engineering. The auto repair receipt is not just important for the mechanic or the repairing company as a record for income, but also for the client if they want to claim insurance or for tax purposes. If the automobile maintenance is in the client's salary package then this receipt is important to claim that as well.
The receipt holds the information about the company such as its name, contact information, address, and logo etc. The receipt also holds the information about the client like the name of the client, contact information of the client, address of the client, insurance information if any, social security or id number etc. The main information the receipt holds is about the automobile being repaired, like the make, model, brand, serial number, color, the repair work done and the amount of money charged. The mode of payment is also mentioned in the receipt. There are different formats for the auto repair receipts available, to choose from.
Preview and Details of Template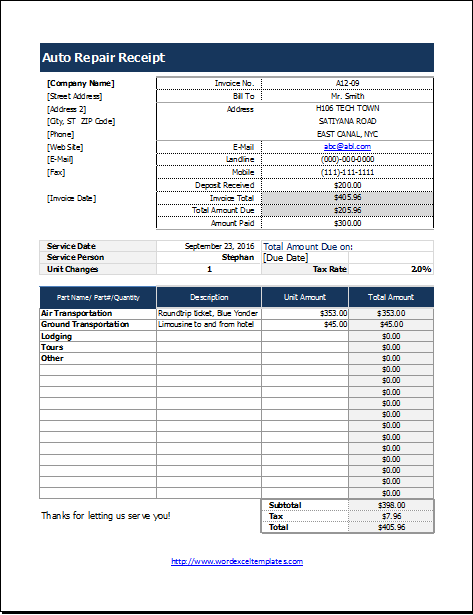 File: Excel (.xls) 2007+ and iPad 
Size 33 Kb   | Download
File: OpenOffice (.ods) Calc [Cal]
Size 20 Kb   |  Download
License: ENERGY  (Personal Use)
(Distribution) by Kate Elizabeth(CEO)