Sometimes, you need to apply to the bank to get some loan or money for certain purposes. It is possible only if you are aware of the right way to access the bank for the stated reason. You can do so if you are capable enough of filling out the credit application form accurately. This is a specific form which is based on the notion of making the flow of credit easy for the recipient and the bank.
What is Necessary to Add in Credit Application Form?
You need to give your personal details to the bank to let them know about your financial condition. You have to state it to them why you need the funds and what will you do so that credit is transferred to you. There could be many reasons for applying for the credit like using funds for business purposes or fulfilling some other priority of yours. You also will have to give thorough information regarding your employment which might include your employment history.
How to Make Best Use of Credit Application Form?
The best way is to fill the form with as many details you can provide to the bank. The easiest way to fill out the form is to be clear of the purpose for which you might need credit for. After having sufficient clarity of the purpose, you will be able to better fill it and then expect good results. Ultimately, do not forget to double check the details as inaccurate information could be disastrous.
Preview and Details of Template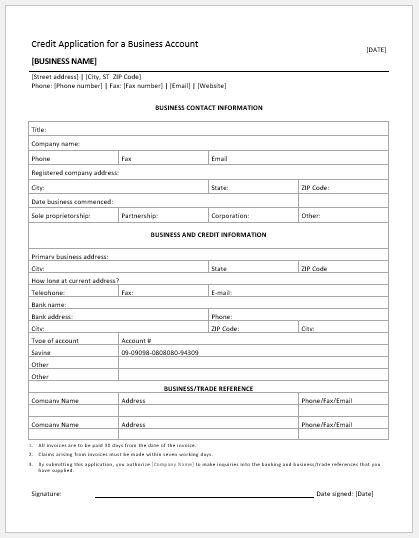 Credit Application Form Template
File:Word (.docx) 2007+ and iPad
Size 68 Kb   |   Download
File: OpenOffice (.odt) Writer [writer]
Size 33 Kb   |  Download
License: ENERGY   (Personal Use Only)
(Not for resale and distribution) by Kate Elizabeth(CEO)
---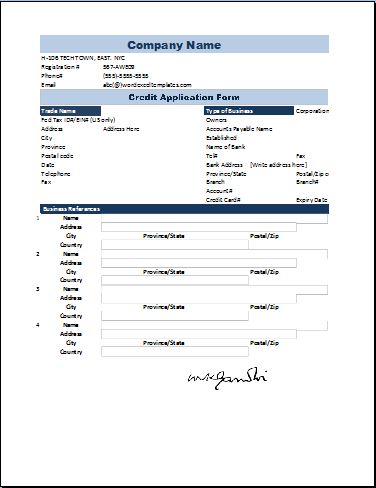 File:Excel (.xls) 2007+ and iPad
Size 68 Kb   |   Download
File: OpenOffice (.ods) Spreadsheet [Calc]
Size 33 Kb   |  Download
License: ENERGY   (Personal Use Only)
(Not for resale and distribution) by Kate Elizabeth(CEO)