On account of various reasons, companies sometimes change their procedure of doing things. Since customers are not aware of this change and it could result in their inconvenience, a letter is sent to regular or registered customers to advise of a change in a certain procedure.
This letter of advice to a customer of a change in a procedure inform them how the change took place with their long-term convenience being the fundamental motive behind it. It also includes the entailment of how to execute the procedure in a new way.
All the guidelines and protocols are mentioned in this letter and the customers are also informed about their new representatives to help them out at the store.
If the letter is from a bank, users are expected to keep the letter confidential because it may include secret information of their accounts which may be harmful if revealed to others.
While you make a draft of this, make sure you address the issue in the right manner without forgetting any useful information. Since it is to your regular and loyal customers, you may convince them it is in their best interest to adapt to this new change.
Highlighting how it is beneficial for them may take them into confidence. You can also explain the difference between the old and new methods to win their trust.
Any loopholes on your part in this letter can annoy the user so make sure you are precise, non-personal, and courteous as well.
Sample Letter
Dear Customer,
We, at the City Bank, are excited to break the news that we are upgrading our digital services for the convenience of our loyal customers.
You no longer have to go to our website to log in and make transactions that many customers complained about owing to the slow speed. We have developed an app for both Android and iOS users to download in their cellphones.
Not only that you can make money transactions with this, but a lot of new options have also been added. From getting credit on your mobile phones, paying to digital entertainment portals like Netflix, Amazon Prime to paying for food delivery, you can manage everything from this app now.
Nonetheless, there is one sad news as you will have to make your login and choose a password once again because while upgrading our system, we lost the customers' data.
Please make sure you choose a 7-letter password with at least one capital letter and one numerical digit. Once you fill the online form on the app, you will get pin code from us with which you can enter your account without entering your login details each time.
We request you to not share your pin code and login details with anyone. The bank will not be held accountable in case of misuse. However, we assure you of our full cooperation in such an unfortunate incident.
Should you have any queries, please visit your local branch to meet Mr. Alex or call him at [X].
Sincerely,
Manager
City Bank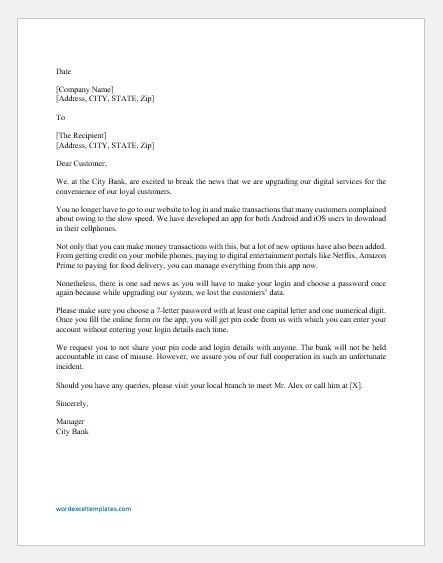 File: Word (.docx) 2007+ and iPad
Size 27 Kb
Download
---