The recipe card is a very effective and useful document that can make your life very easy and convenient. Cooking is one of the most important activities in our lives. No one can survive without food. Over several thousand years humans have developed a certain way of making and cooking various food items. These methods are known as recipes. Every country and every nationality have their own cuisines and delicacies that they like to eat the most.
Religiously people also differ in their methods of cooking. Recipes are also sometimes a specialty of certain families. This means that over generations people are getting the same recipe and learning it to bring about the same great taste in their cooking.
Those of us who cook on regular basis know that it is very important to follow a proportional amount of ingredients to bring about the good taste in the food. But when we cook many dishes every day, we often forget or mix up things and their quantities.
Recipe card template helps us make special ingredient planning for a particular dish. It can contain all the information of ingredients and methods that should be followed to come up with a great dish.
The given templates are also very useful to note down recipes that we have seen from a cooking show or read a magazine or book.
It helps maintain a record of the cooking information we gather and helps us reproduce it whenever we need it.
The recipe card templates allow the drafting of professional cooking planning at a time.
Preview and detail of templates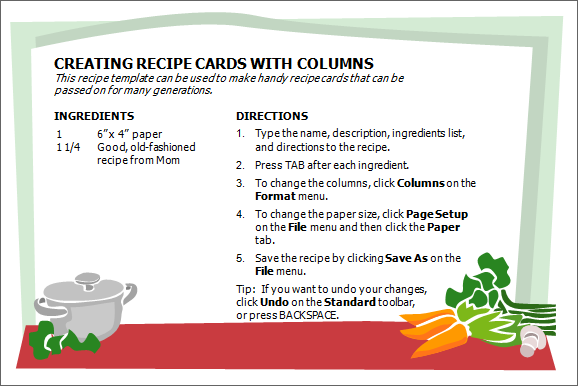 File: Word (.doc) 2007+ and iPad Size 86 Kb |
Download
File: OpenOffice (.odt) Writer [Writer] Size 25 Kb |
Download
License: ENERGY (FREE Use)
(Distribution) by Kate Elizabeth(CEO)
---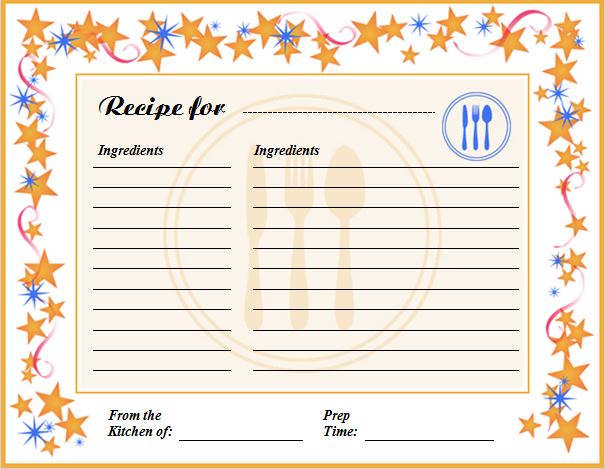 File: Word (.doc) 2007+ and iPad Size 217 Kb |
Download
File: OpenOffice (.odt) Writer [Writer] Size 216 Kb |
Download
License: ENERGY (Personal use only)
(Distribution) by Kate Elizabeth(CEO)
---
Cooking recipe cards are single sided cards that may vary in size, that carry different recipes of a variety of culinary dishes. It may seem impractical in this digital age where one can just save a recipe on their phone, pin it on Pinterest to view when required. But finding the desired recipe that you saved in a large pile of saved recipes can be a tedious task. However, having an organized file or box that has all your favorite recipes is easier and can be a great inspiration for what to cook.
Here are some tips on how to start utilizing recipe cards:
Record just the recipes you make a ton. This eliminates mess in your recipe box. On the off chance that you've made it previously and would make it once more, record it. In the event that it's a magazine cutting or a recipe you're just somewhat inspired by, toss it or some way or another keep it separate from your favorites.
Keep them available. Keep your container on the kitchen counter with cookbooks. Once in a while, it's extremely extraordinary to not need to chase down a beloved recipe in a cookbook or on the Internet.
Share your recipes. In the event that somebody approaches you for a recipe, they're giving you a compliment. State thank you and offer to record it for them. Keep clear cards in your recipe box and scribble down your recipe for them immediately. Be generous.
Be straightforward and intensive. Share your whole procedure so I can make it as you did.
Compose intelligibly. There's nothing more awful than think about what somebody's untidy hand writing says. The distinction between a teaspoon and a tablespoon is gigantic.
Update your recipes. On the off chance that one day you choose your great crusty fruit-filled treat needs somewhat more cinnamon, make a note of it on your formula card. You'll know to do it next time.
Recipe cards can be a great way for you to store your beloved recipes and this will enable you to keep a record that you can forward to your children, and they to theirs; keeping a family tradition and a strong family bond.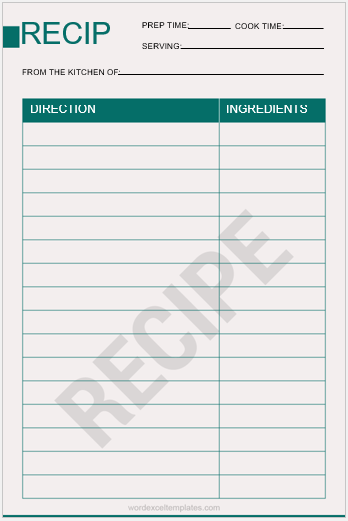 File: Word (.doc) 2007+ and iPad Size 64 Kb |
Download
License: ENERGY  (Personal use only)
(Distribution) by Kate Elizabeth(CEO)
---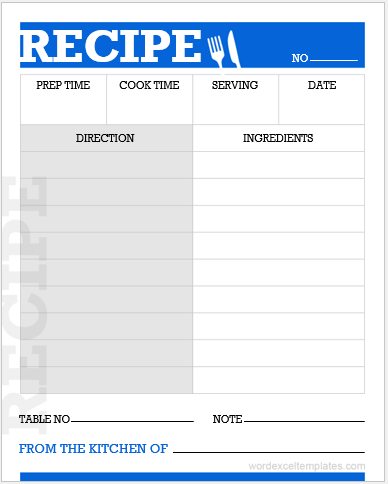 File: Word (.doc) 2007+ and iPad Size 76 Kb |
Download
License: ENERGY  (Personal use only)
(Distribution) by Kate Elizabeth(CEO)
---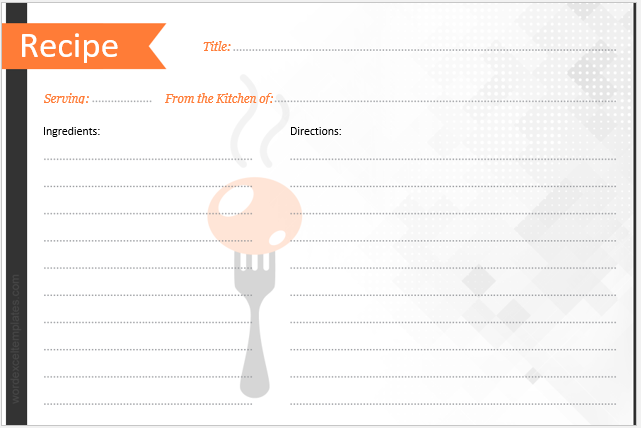 File: Word (.doc) 2007+ and iPad Size 362 Kb |
Download
License: ENERGY  (Personal use only)
(Distribution) by Kate Elizabeth(CEO)
---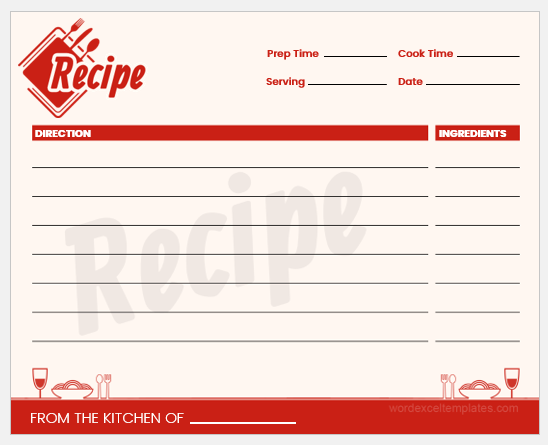 File: Word (.doc) 2007+ and iPad Size 186 Kb |
Download
License: ENERGY  (Personal use only)
(Distribution) by Kate Elizabeth(CEO)
---