We need to write a letter of permission when we want to authorize someone to do something that we should do but cannot because of some problems. Oftentimes, we have to go to another city or country and we want someone to work on our behalf. Additionally, certain things are in our access and only we are permitted to take actions on those things such as handling finances.
What is an authorization letter to deduct from the salary?
Your salary is what you get after working for many hours for someone and it is your basic right to get that salary. A company makes deductions from the salary when you are late or absent from work without sending a leave. There are also many other situations in which you face a deduction from the salary.
No one likes the salary to be deducted. However, in some cases, people themselves allow the deduction from the salary. This happens for a variety of reasons. No matter what reason you have in your mind, whenever you have to allow your employer to take some amount from your salary, he/she will ask you to write the authorization letter.
Why it is important to write the authorization for allowing deduction?
It has been told earlier, no one has a right to deduct your salary without your permission for any purpose. If they do so, you can take legal actions against those people. Therefore, your employer will always need your consent before he deducts an amount from your salary.
When to write this letter?
When there is a scheme initiated by the organization you are working in and you are offered to take part in it, you can allow your employer to take your contribution from your salary.
When there is volunteer work going to be started and your company needs funds and asks sympathetic people to come forward and take part in the volunteer work, you can write this letter to ask your boss to take your contribution from your salary.
If you have taken a loan from the company and you are not in the position to pay it off, write the authorization letter to allow your boss to take a percentage of money from your account as a repayment of the loan.
How to write the permission letter to allow someone to cut an amount from your salary?
Provide your details in the letter including your name, your designation in the company, the department in which you work, and everything that you think the recipient might need so that the deduction from your salary can be confirmed.
Mention the amount that you can allow your boss to take from your salary. This assures that the amount more than the mentioned amount cannot be deducted at any cost.
Also, specify the period for which the employer is allowed to take the deduction.  
Specify the reason for which you allowing your boss to deduct your salary. This is important information that should never be overlooked. When you specify the reason, you specify that your salary should be deducted only for that very reason. If it is deducted for any reason, you can take the necessary steps to reverse the deduction.
Reiterate that you are willing to take part in the matter that entails the deduction from your salary. This will confirm that you are willing for and no one will be answerable to you for having taken some allowed amount from your salary.
Sample authorization letter
Subject: To whom it may concern
I am (mention your name) working in (mention the department) on the post of (mention your designation).
I hereby, authorize (write the name of the employer) to deduct (mention the amount) from my salary for volunteer work for February.
I confirm here that I have received the announcement from the company about my contribution to volunteer work. Therefore, I have decided to play my role.
I wish the deducted salary to be spent on the welfare of kids.
I consent to receive information regarding the deduction via email and letter.
Name of the sender.
Signatures:
_________________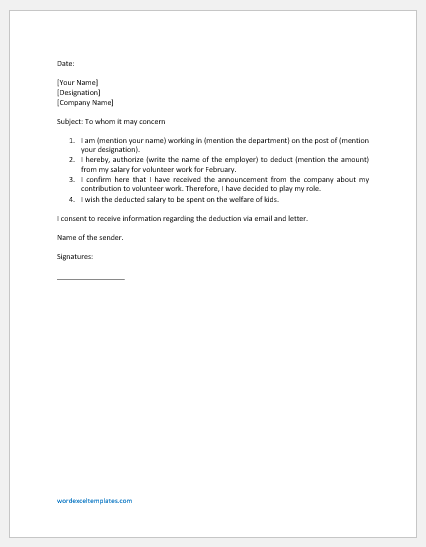 File: Word (.docx) 2007+ and iPad
Size 21 Kb
Download
---