Payment Receipts
Business is about looking for money and profit. You make your deals attractive to get a good pay. Besides the process of gains and loss, business is also the other name of management. In every way of life, organized stuff is praised and is the best way to promote your business. The business receipts have been designed for such a purpose so that all the transactions and money exchanges can be recorded.
Most of the times the transactions made in the business are not simple it requires to be handled with quiet a care. Every small exchange of money needs to be mentioned so that errors and issues can be solved. The balance sheet is the most common way to mention all the trades taking place between the organizations and the customers so that in the case of any dispute the lump can be resolved with ease.
There are many modes of payment. Sometimes you pay full money once the product is being handed to you and sometimes you pay half of the payment before the delivery of the item and that payment is the advance payment but a proof is also given to you once you clear half of the payment and that proof is the receipt.
The advance payment receipt is the formal document provided to the customer by the seller on the partial installment of the full amount and the rest of the money is paid after the product is delivered.
Where to get the receipt?
There are many different patterns of advance payment of receipts and you can find around hundred of templates that are free to download on the internet. The templates could be customized according to the kind of information necessary for your organization.
What is the layout of the receipt?
Like every normal receipt, it starts with the general information of the customer and seller. Date and time come next in line and after that, the mode of payment and the amount paid and the amount left to be paid is mentioned in the receipt. The last thing to mention is the name and quantity of the items that needs to be sold.
Preview and Details of Template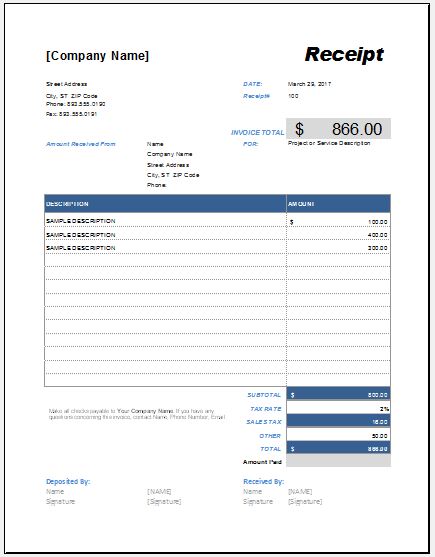 Advance Payment Receipt Template
File: Excel (.xls) 2003+ and iPad
Size 44 Kb | Download
File: OpenOffice (.ods) Calc [calc]
Size 14 Kb | Download
License ENERGY [Personal Use Only]
[Not for resale & distribution]