Tournament Bracket Template
Tournament Brackets
Almost all of us have a passion for football tournaments. At the start of each season, people from all walks of life start planning their routine activities to enjoy tournaments to the fullest.
Tournament brackets are special tools in the form of tree diagrams that show the complete list of games played during a tournament. The latest Excel bracket template now allows football enthusiasts to maintain a perfect account of all their favorite matches by designing a professional list of matches without any help.
It is a wonderful tool for schools and colleges where it can come extremely handy in planning different matches and maintaining accounts of each match in a most effective way.
About Template
The template is easy to use and highly customizable. You just need to download it, enter the information and it updates entire activities automatically. Using the 2018 bracket template will allow you to track your favorite matches of the tournament with the help of a reliable pool worksheet. This will surely help you in keeping one of the finest office pools in town.
One of the most impressive features of the tournament bracket template is its ability to update the final scores of each game automatically until the time when champions are declared and crowned.
The office pool feature of the template allows you to automatically calculate points of each game of the tournament in order to determine which team is currently leading the charts and how well it will perform in the future.
Preview and Details of Template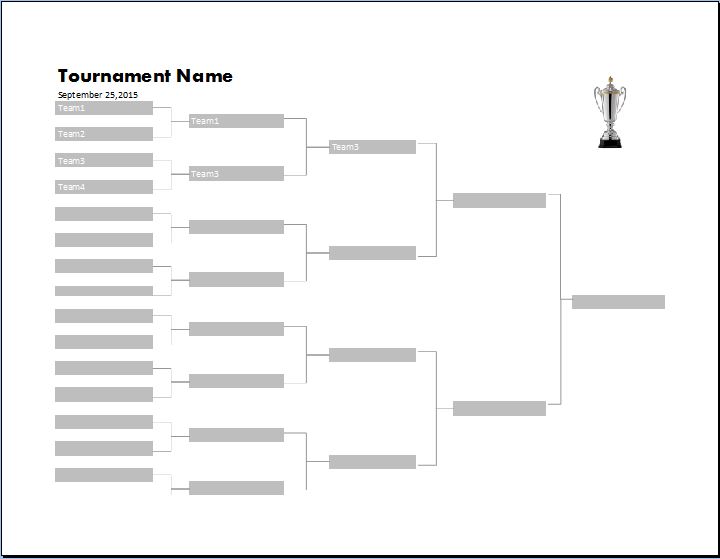 File:Excel (.xls) 2007+ and iPad
Size 52 Kb   |   Download
File: OpenOffice (.ods) Spreadsheet [Calc]
Size 23 Kb   |   Download
License: ENERGY   (Personal Use Only)
(Not for resale and distribution) by Kate Elizabeth(CEO)