PUPPY DEPOSIT
A dog is no doubt a man's best friend and most of us enjoy having a pet dog. Especially, kids are eager to get a new born puppy, so they can see it grow, play with it and enjoy its company. There are a lot of pet stores where you can find the puppy you are looking for. The pet stores have a variety of breeds for you to choose from. Sometimes you do have to wait if you're looking for a rare breed puppy. The deposit that you give for the purchase of a pet puppy is usually non-refundable.
The puppy deposit slip is like an agreement or contract of purchase between the buyer and the pet shop or pet supplier. The information that the receipt holds is as follows:
The name of the pet supplier
The logo of the pet supplying company
The date the puppy was purchased
The terms and conditions that apply to the purchase
The contact information of the pet supplier
The name of purchaser
The contact information of the purchaser
The breed of the puppy
The age of the puppy
The sex of the puppy
The color of the puppy
The amount of the purchase
The amount paid
The balance to be paid later (if required)
The mode of payment
The signature of the seller
The signature of the buyer.
The format of the receipt depends upon your requirements. Different templates are available in different formats and layouts. The receipts are used by pet shop to keep a record of the sales they have made and for the client to keep a record of the new pet they have purchased.
PREVIEW & DETAILS OF TEMPLATE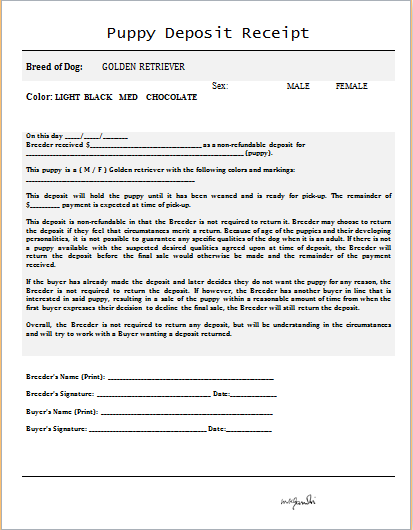 File: Word (.doc) 2007+ and iPad 
Size 43 Kb   | Download
File: OpenOffice (.odt) Writer [Writer]
Size 34 Kb   |  Download
License: ENERGY  (General Use)
(Distribution) by Kate Elizabeth(CEO)