PURCHASE RECEIPTS
The itemized receipt is a very generalized and broad term used to describe a standard for purchase invoice.  It can be used by almost any seller. Restaurants, department stores, stationery stores etc.  are a few examples.
This can be used in a business to business sales and purchase scenario as well as business to customer scenario.  Detailed inventory purchase can be done using this receipt. But most commonly it is used in departmental stores and retail shops. The reason it is known as the itemized receipt is that it displays information of your purchase as per each item.
The information that is mandatory for itemized receipt is as follows;
Business name
Date of purchase
Items purchased
Code of each item purchased
Price of each item purchased
Total amount of the bill
Discount
Method of payment
RECEIPT TEMPLATES
If you have lost the itemized receipt then you can always go back to the vendor or merchant and ask for a duplicate. Mostly these are printed and have the vendor barcode at the bottom of the receipt.  If you want a reimbursement for an officially entitled purchase or lunch, then this receipt is very important. Different templates are available in different formats. Selecting a template for your business depends on how elaborate information your business requires listing. The itemized receipt template not only makes it easier for you to keep a record of the purchase but also makes the whole process very easy and manageable. Just choose the right template to adjust a few fields and organize your business process.
PREVIEW & DETAILS OF TEMPLATE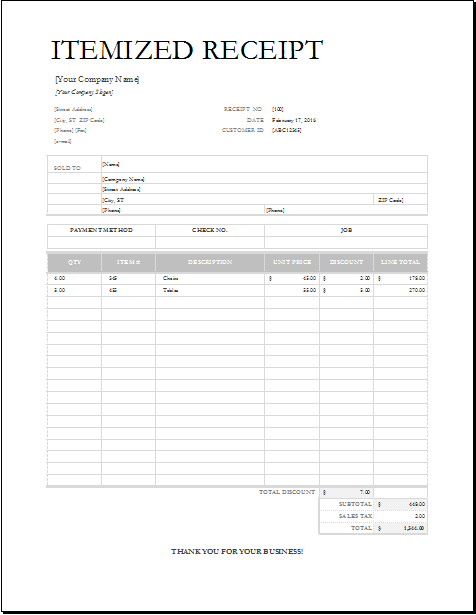 File: Excel (.xls) 2007+ and iPad 
Size 35 Kb   | Download
File: OpenOffice (.ods) Calc [Cal]
Size 42 Kb   | Download
License: ENERGY  (personal use only)
(Not for Resale & Distribution) by Kate Elizabeth(CEO)