If an employee in your company has been given the task to ensure safety is not performing his duties well, he is violating the safety rules. All the employees working in an organization are expected to behave appropriately and follow the rules and regulations of the company.
Not taking care of safety rules can be very dangerous for the organization. The warning letter for the safety violation is written by the manager of the company when he finds someone violating the safety regulations of the company.
This letter is started with the details of those safety regulations which have been violated and then it proceeds to the description of all those actions that can be taken if the employee will not correct the problem.
The employee can be asked to correct his behavior which caused the safety violation so that he can save himself from disciplinary actions.
The tone of the letter should be firm but formal. You can ask the employee to take corrective measures straight. It should also be mentioned in the letter that this letter is a warning letter and it should be treated as a formal warning letter.
This warning letter serves as proof that the company has written several warning letters to the employee before terminating his job. Here is a sample letter body to be written in case of a safety violation.
Sample Letter:
It has been observed that you are continuously violating the safety regulations of the company. You may not know you are violating the safety violations or maybe your violation is unintentional. We are writing this letter to bring it to your notice that we have serious concerns about our safety regulations. Following the rules and regulations of the company regarding safety is very important. Moreover, the frequent violation of safety rules will result in disciplinary action.
Signatures of manager
____________________
I have read and understood the letter completely and I assure you that I will not violate any rule regarding safety. Moreover, I will try to increase the safety of the company.
Employee's signature
_____________________
Preview and details of template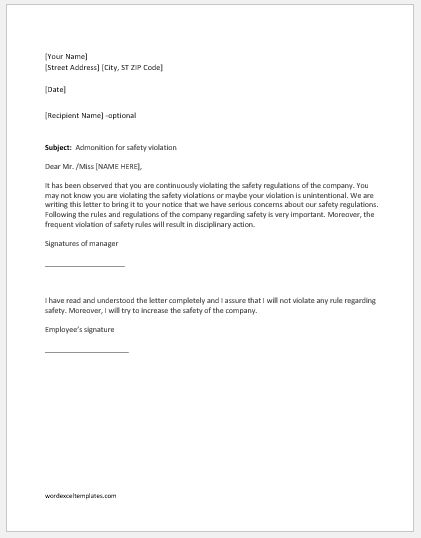 File: Word (.docx) 2007+ and iPad
Size 33 Kb
[Personal Use Only]
Download
---
More Samples
1:
This letter is being issued by [X] as a warning to you against safety violations. It has been reported to us that you are not following important safety rules during the execution of your assigned project. It is your responsibility to ensure the health and safety of the labor force during work. Your negligence can cause the company to face serious legal action by the government.
You must therefore enforce all the mandatory safety rules with immediate effect. Further negligence will compel the company to terminate your contract. In addition, you will not be considered for our future projects.
It is hoped that you will take this warning seriously and take the required action immediately.
2:
This letter is an official warning to you issued by our company against safety violations at the project site. As an important clause of our contract, it is mandatory for you to ensure that all required safety measures are being taken by the laborers during the construction work. However, during our senior manager's visit to the construction site, it was observed that basic safety rules were being neglected. Many laborers were seen without proper work gear which includes a construction cap, leather gloves, and masks for protection against asbestos. This is completely unacceptable to our company.
You must enforce safety measures among the labor force as soon as possible. In case this negligent behavior continues, the company shall fine you heavily. Moreover, you will also put your prospects of working with our company in jeopardy.
It is expected that you will take this matter seriously. Company representatives shall be making surprise visits to the project site from now onwards for inspection. Therefore, you must take immediate action or face the consequences.