In the world of the profession, much stuff comes around that needs to be dealt with technicality. Among such things, one issue found many times is a warning. The warnings on wrongdoings are important to keep the system smooth with the required functionality.
This is also good for making the others avoid many erroneous acts. In the same way, helping someone in committing a crime is also considered a crime. The employees who help the criminals are also punished according to the clauses prescribed by the organization.
The letter for aiding and abetting an escape is written by the higher management of the company for an employee who has helped his colleague in an escape from the workplace. The letter is a formal document that may be used later for the termination of the employee.
A warning letter for aiding is sent when someone is found helping the criminal despite the consequences. This letter can be issued in many scenarios like:
When some employee is found helping the criminal employee in stealing important office files to change or erase important records.
When one employee aids the employee, who is committing crime replacing expensive office equipment with cheap office type of equipment.
When one employee aids the criminal employee in the laundering of money on a large scale.
Hence, all these cases and many more lead to a strict and serious warning letter. This warning letter contains the references to the punishment clauses for committing such crime. Additionally, it includes the final chance before the serious action that can lead to eviction. The letter should contain the references for the witnesses. The letter must contain the name, position, signature of senior authorities, and the company's name.
A sample warning for aiding is attached as follows.
Sample Letter
This letter is issued to you as a warning letter for being a helping hand in the crime that your colleague [INSERT NAME] found involved in the last day.
It has been featured that [NAME] escaped from the workplace by trespassing the guard and that you assisted him in this evil practice. It is beneath disgust to cheat on the sacred place that is the way of winning your bread and butter for you.
[NAME] has met his fate for his wrongdoings, but it is going to be a crucial decision for us to keep you working with the company since you were equally involved in those unprofessional conducts.
As per the nature of your crime for being found assisting someone escaping from work, you should be dismissed from your post in no time but keeping in mind your professional record the company wants to provide you the last chance to prove yourself.
For aiding and abetting escape from work you must agree on half salary deduction policy for this month in other cases you can take your way without getting paid a single penny for the whole month.
Hopefully, you will mend your ways to the best.
Sincerely,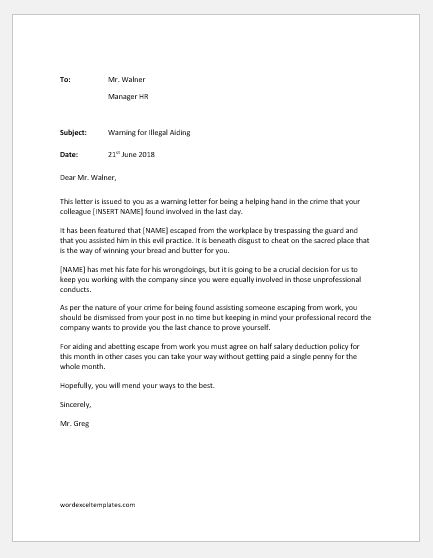 The letter template
Format: MS Word [.docx]
Options: Download