Any person who works in the company as an employee needs to write leave application to office, to the boss, and the manager, when due to any personal reason they won't leave from the work. The core aim of this application is to ask your boss for approval of your request.
Applications are written in order to persuade the boss to take consideration of your leave request. It is the employee's duty to accomplish all his work and duties on time while working in the company. Any company wants its employees to be at the workplace and expects them to perform their allocated tasks for a particular number of hours on a daily basis. 
This thing is an employee's right to take off from work for one or more days when has some ground basis for not coming to work.
It is the responsibility of the employee to inform the boss well before time about his absence so that compensation can be made in his absence by the boss. If there is no need to take urgent leave then the employee can have a meeting with the boss in person to discuss his leave. If the boss gets agreed with the discussed reason then he will ask the employee to pen down the application. In order to get approval from the boss, the application should be written in a convincing manner. Below are some tips to write a leave application.
Ask your boss that you want three days off from the work and along with this mention the dates of leave days too on which you are going to take leave.
Secondly, you have to state the reason for taking leave and the reason should be convincing and solid so that the employer may consider your request for leave. 
The letter should be written in a formal tone with no exaggeration and state your reason directly without mentioning any extra detail. Thanks for your boss at the application's end. Following is a sample for leave application due to personal reasons.
Sample-1
11-08- 20XX
The Manager,
XYZ Firm
Anthony Marlow
25-789 Street
(1111) 2345-6788
Subject: Three days leave application to the office for personal reason
Dear Mr. Marlow,
Hope this application finds you in good health. I am, Dorothy Klein, giving my services for the post of XYZ under your supervision for the last five years. During this time span, I remained available even in non-working hours and did not take any leave without informing. The core aim of penning down this application is to seek three days' leave from you.
I want this leave due to some personal reasons and familial issues that I am surrounded by nowadays. I cannot tell the exact reason but the problem is rather serious. It's getting difficult for me to continue the work along with the problem. I am passing through the tough days of my life and it has made me stressed. My family wants me to be with them at this difficult hour. As a responsible individual, it is my duty now to accompany them in this hard time.
I know that you understand your employees' problems very well. Keeping in view aforesaid circumstances, I am hopeful that you will grant me leave for three days. Mr. Johnson can better take hold of my work as he has some knowhow of the work I am doing. He will give this favor to me.
I request you therefore to approve my application. I would be very thankful to you for this act of kindness. If you have further queries related to this you can ask me, I am there to answer all of them. Thanking you in advance. 
Regards,
Dorothy Klein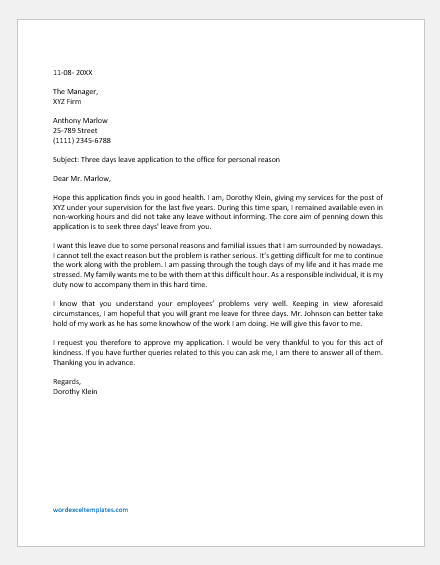 File: Word (.docx) 2007+ and iPad
Size 21 Kb
Download
---
Sample-2
11-08- 20XX
The Manager,
XYZ Firm
Jenny Winget
25-789 Street
(1111) 2345-6788
Subject: Three days leave application to the office for personal reason
Dear Miss Winget,
I am hereby writing down this application to ask for leave due to some personal allegiance. I want to take leave encompassing for three days starting from 11-08-20XX to 13-08-20XX. I ask for this leave to handle some matters that seek attention and I am impotent to balance it with my work.
I herewith ask for this leave three days earlier to go for an untroubled transition. I was made aware recently that my physical appearance is asked for at the final hearing of my father's last will left behind. Being his only son and heir, my presence is requested there to accomplish all the legal rituals. 
The issue is of significant importance and takes my superseding at this moment. All the current week's work has been finished by me as well as the work of leave days during which I will be unable to join the office. I recommend Mr. Steward in my absence to cover for me. I will be working slightly and consequently in a position to review work reports. Moreover, if you need my assistance I would remain available during these days.
I will resume my duties on 14-08-20XX. I can be contacted on my email and phone number in case of any queries. Keeping in view aforenamed reason, I hope that you will grant me leave by giving favor. Hoping for a prompt response from your side! 
Sincerely,
Edward Ralph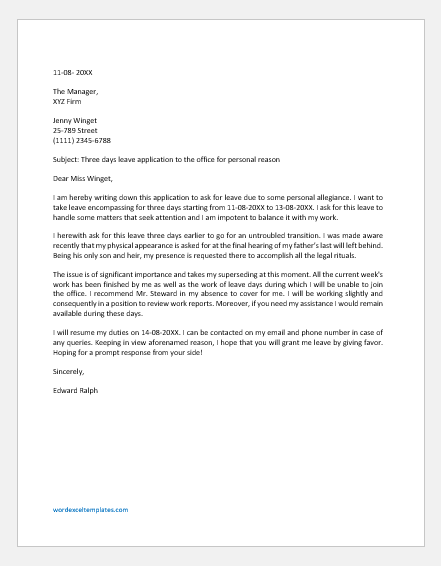 File: Word (.docx) 2007+ and iPad
Size 21 Kb
Download
---