Working from home is what we all prefer to do at some time. One may be forced to do this due to some problems. This can include a sick child, shifting homes, guests coming, etc. When one needs to work from home, they must inform the employer about this.
What is a one-day request letter to work from home?
A one-day request letter to work from home is the letter that an employee will send to their boss or employer informing them politely if they can work from home on a certain day. This is a request and so polite words should be used.
In a professional setting, all activities must be handled seriously. When one needs to request something from their employer, this can be done politely with the help of a request letter. This letter shows that the staff member takes their work as serious. It is proof that the employee asked to work from home on a certain day.
When composing the request letter remember that you are asking your employer for a favor. Keeping this in mind, the below points can be taken into account:
Subject line: This request letter will probably be sent by email. Send it as soon as possible so that the employer has time to consider your request. The subject line will state what the email is for, i.e. to work from home for one day.
Body of the email: You will start by addressing the employer. This can be with "Dear and then Sir, Mr., Mrs., and name of employer. You mustn't include any unnecessary details. Start by stating that you need to work for one day at home. Mention the date and day that this is. You will need to give the reason why you want to work like this on this day. It should be a solid reason. End by hoping that your request will be taken into account. I apologize for any inconvenience.
A request letter must be written professionally and have a professional format.
Sample Letters
Subject: Request to allow work from home for one day
Dear Sir,
I am Anderson, working as an in-charge marketing section in your company. I am putting forward my request through this letter to work from home for just one day. I know It looks awkward but the reason behind my request is that my son has been suffering from typhoid for many days and he has a due appointment with a doctor at [HOSPITAL]. He is too young to visit the doctor alone. Therefore, I have to take him to the doctor in order to get him checked.
I am well aware of the workload nowadays due to the closing sessions and auditors are about to come within a week. Keeping in view the whole scenario, I have decided to do day's work from home after I will return from the hospital. You can trust me because the quality of the work will not be affected at all.
If you allow me, I can inform my clients to contact me in case of any query regarding work. I hope you will entertain my request keeping in view my genuine problem.
Yours faithfully,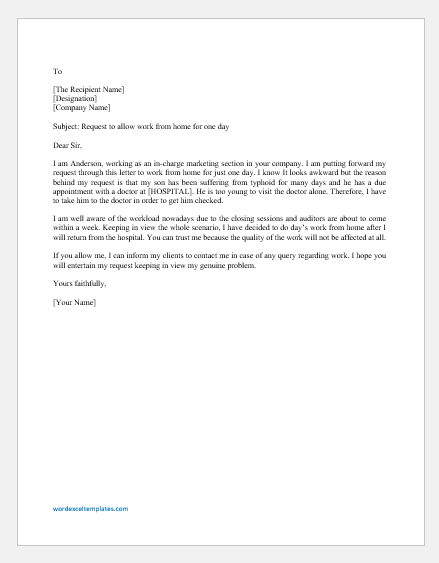 File: Word (.docx) 2007+ and iPad
Size 21 Kb
Download
---
2-
Dear Sir,
I am Johnson, working as assistant director finance in your company for the last five years. I am penning this letter in order to get your kind permission to work from home for one day. Due to the lawyers' strike scheduled tomorrow, roads will be blocked. Consequently, I will be too late to reach the office on time. It will take me almost half a day to reach the office in an alternate way. Therefore, owing to the severity of the matter and keeping in view the workload, I had better stay home and work from there rather than wasting my time on roads.
This will not affect the quality of my work and I will deliver all the due assignments on time. I am sure you will understand the nature of the problem and entertain my request for the sake of the company's benefit. Thanking you in anticipation.
Yours truly,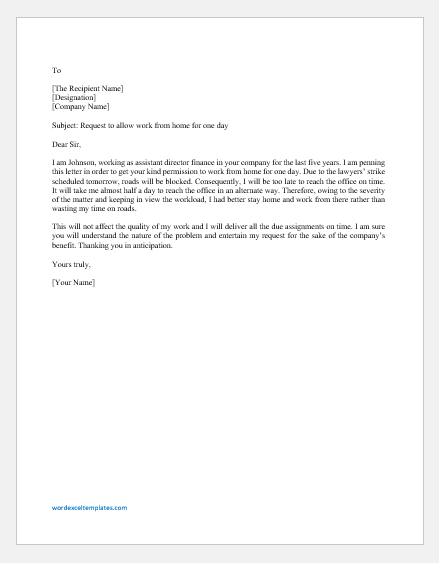 File: Word (.docx) 2007+ and iPad
Size 18 Kb
Download
---