A reference letter is basically a recommendation letter written by an applicant's previous organization or supervisor. The letter means the previous employer is verifying the applicants' adequacy in the working environment.
The document is written to testify to the applicants' work performance, behavior, skills, and other work-related attributes. A person applying for jobs can use the reference letter to enhance their resume.
Organizations check potential future employee's recommendations, while the hiring decisions are being made. The letter acts as proof of previous employment and the organization the person is applying at can confirm the applicants' work history and performance.
During the hiring process for new employees, the organizations ask for the submission of recommendation letters. This is, especially, the case for job positions that require a certain amount of experience in the same or similar field of work.
Before permanently leaving the organization, the employees are recommended to request their supervisors or higher officials for letters of reference. This is because the reference letter provides an insight into the applicants' skills and abilities to potential future employers.
The recruitment team looks for specific qualities in applicants which makes them appropriate candidates for the organization. This means that other than matching the applicants' qualifications to the job description, the organization also matches job specifications to the applicants' personality. The only way to analyze the applicants' personality is through reference letters.
Below is a sample reference letter provided by a previous employer of a person:
Sample Letter
To Whom It May Concern,
I would like to recommend XYZ as a candidate for a position in your organization. For the past five years, I have been XYZ's direct superior in the controlling department at the head offices of 'Name of Organization'. During this time, XYZ covered our 'Location' operations, but also assisted me in managing the department.
XYZ has demonstrated a deep understanding of his field. He is a hard-working and energetic person, and I have no doubt that he will experience great success in his future organization. XYZ takes initiative to go beyond the expectations of his job. When managing projects, XYZ applied a very structured approach.
XYZ was an excellent employee and I am sure he will be very successful in his future career. He was a quick learner and did not hesitate to expand his knowledge. He attended numerous internal and external training and conferences to stay up to date within his field, and he always made sure to share his new knowledge with team members.
If XYZ's performance at our firm is a good indication of his future performance, he would be an asset to your company. If I can provide you with any further information, please do not hesitate to contact me.
Sincerely,
Name of Previous Employer,
Job Position,
Organization Name,
Phone Number,
E-mail Address.
Preview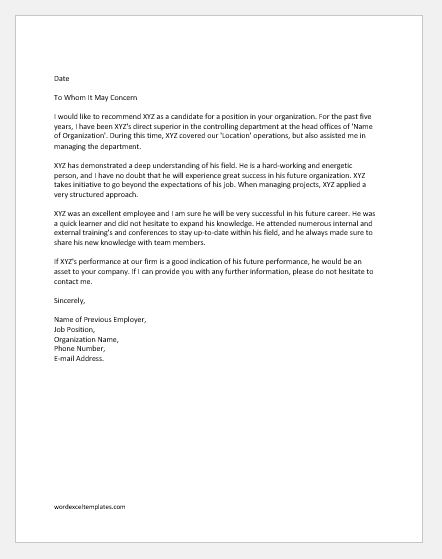 File: Word (.docx) 2007+ and iPad Size 19 Kb |
Download