Life has been very prone to diseases and mishaps in this era. We have developed a lot of tools for our ease but there is nothing that can stop death. People have developed various lethal behavioral patterns especially homicides and murders etc. It has become an imminent point to keep a track and record of everyone. Everyone means everyone, from the head of the state to the person working as a clerk in an office or a beggar wandering the streets. People having any disease should keep a record with them for the emergency situations.
Why record release from is needed?
The form is basically required to gain information about the subject. If you are a patient, your medical record is required by the physicians for the treatment of a disease. It is issued by the person himself or by the hospital authorities with the consent of the patient.
If you are looking for a residence in a new neighborhood, your criminal record is checked. You have to issue a standard legal document to the police department to grant you the record form that your landlord or the employer can check for their satisfaction.
If you are seeking for a loan, the banks will require a record of your payments, loans, debts, and billing details. You have to issue a legal document with your signature allowing access to your record.
Similarly, all these records are also required when you are going on a foreign trip, especially for the first time. Medical and criminal records are given the most importance.
Release forms' essential points
The release forms usually require information about the drug abuse, alcohol consumption, or any other disease. The medical record release forms are given by the physician or the nurse. In the case of criminal release form, the justice department issues the form containing all the info about the terms spent in jail if any, or if the person is clear of all charges. Records are either mailed or given by hand to the person.
Here is a sample of a release form given below. You can download it for your convenience.
Preview & Details of Template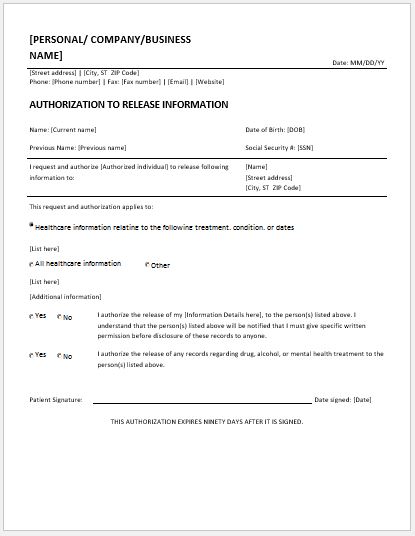 Record Release Form Template
File: Excel (.xls) 2003+ and iPad
Size 44 Kb | Download
File: OpenOffice (.ods) Calc [calc]
Size 12 Kb | Download
License ENERGY [Personal Use Only]
[Not for resale & distribution]