Negligence in duty is something that is not tolerable by anyone. The employers have a right to admonish their employees if they show negligence in their duty.
As a matter of fact, everyone is required to pay attention to their duty regardless of the type of duty since they are paid for this. It is a basic right of an employer to reprimand the employee whenever he shows carelessness.
Negligence in duty is a common problem that is often seen in the workplace. Some employees do this deliberately while some do it inadvertently. Every organization has a different way to deal with negligence.
It is very important to deal with negligence because people at work will not rectify their actions unless the company takes some necessary steps. In some companies, a straight warning is issued to the employee while in others, the employee is asked to issue the explanation for his negligence.
Importance of explanation letter for negligence
Many organizations believe in giving a chance to their employees. When an employee with a good track record shows negligence, he is asked to write the explanation letter. The explanation letter sounds good because it saves the people who have some solid reasons to show negligence. The explanation letter gives a chance to the employee to explain why he showed negligence. The employer is likely to accept the explanation if it makes sense. Furthermore, it also gives an opportunity to apology for the negligence that he has shown at the workplace.
Tips for writing an explanation letter for negligence
The format to be followed is very important to know because it is a formal letter and you are writing it to your employer who might be slightly angry with you.
Keep the letter concise. Although your boss has asked you to give an explanation, try to keep your explanation to the point and meaningful at the same time. There should not be any rambling in the letter.
Make sure that you don't lie to your boss. Sometimes, the situation in which you neglected your job is very clear, and your boss just wants to know your point of view. Therefore, lying can aggravate the situation.
Sample letter
Date
Name of the employee
Designation in the company
Name of the company
The subject of the letter
Salutation;
Dear manager,
I have received a warning letter from you with regard to the negligence of the duty. I have been asked in the warning letter to give an explanation of my negligence. I want to say sorry for my negligence. I know that there is no justification for poor performance at work. However, I am giving you an explanation because I was not really meant to neglect my job.
My wife was very sick at home, and I had to call her many times while being at work. Due to which, I was often seen using a mobile phone in the workplace.
I assure you that I would not repeat this kind of negligence.
Sincerely
Signatures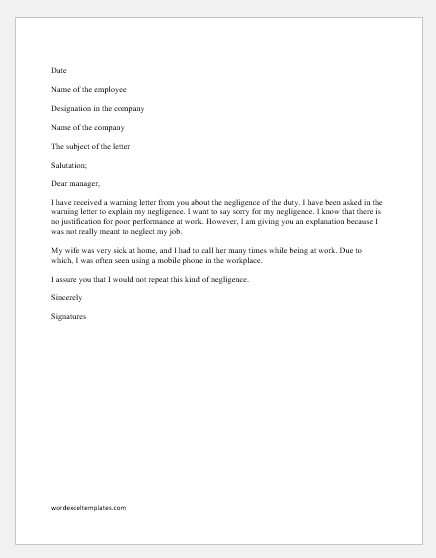 File: Word (.docx) 2007+ and iPad Size 17 Kb |
Download
---