Negligence in duty is something that is not tolerable by anyone. Employers have a right to admonish their employees if they show negligence in their duties.
As a matter of fact, everyone is required to pay attention to their duty, regardless of the type of duty, since they are paid for this. It is the basic right of an employer to reprimand the employee whenever he shows carelessness.
Negligence on duty is a common problem that is often seen in the workplace. Some employees do this deliberately, while others do it inadvertently. Every organization has a different way of dealing with negligence.
It is very important to deal with negligence because people at work will not rectify their actions unless the company takes some necessary steps. In some companies, a straight warning is issued to the employee, while in others, the employee is asked to issue an explanation for his negligence.
Importance of explanation letter for negligence
Many organizations believe in giving a chance to their employees. When an employee with a good track record shows negligence, he is asked to write an explanation letter. The explanation letter sounds good because it saves the people who have some solid reasons to show negligence. The explanation letter gives a chance to the employee to explain why he showed negligence. The employer is likely to accept the explanation if it makes sense. Furthermore, it also gives him an opportunity to apologize for the negligence that he has shown at the workplace.
Tips for writing an explanation letter for negligence
The format to be followed is very important to know because it is a formal letter and you are writing it to your employer, who might be slightly angry with you.
Keep the letter concise. Although your boss has asked you to give an explanation, try to keep your explanation to the point and meaningful at the same time. There should not be any rambling in the letter.
Make sure that you don't lie to your boss. Sometimes, the situation in which you neglected your job is very clear, and your boss just wants to know your point of view. Therefore, lying can aggravate the situation.
Sample letters
#1
I am writing this letter to apologize for my negligence pertaining to the projects and other responsibilities assigned to me as ABC manager at XYZ Company. There is no justification for performing below average on any project, but I wanted to explain myself and my reasons for this negligence.
For the last two years, I have handled many projects as a team leader and tried to perform best in every project, but due to the enormous workload during the last two months, I was unable to cooperate with multiple teams, which led to inaccurate and poor work. My explanation does not justify my negligence, but I am very ashamed of the higher administration because I understand the worth of these projects and the business these companies provide us.
I have taken the necessary steps to avoid such behavior in the future.
I will inform management about the high workload so that they can provide more help in terms of team members.
Team members will be allowed to scrutinize my work before it is presented to management or other businesses.
I will try to share the workload with other team members and trust the process.
I assure higher management that my work will be better and there won't be any mistakes in it. I hope you will bring it to your mind to forgive me for this situation. I will regain your trust through my performance and prove my abilities. Thank you in anticipation.
#2
I am officially writing this apology letter to compensate for my negligence on a recent project. I take full responsibility for my actions, and I am ready to accept any punishment or workload that the management decides for me.
In my defense, I can only say that the whole incident took place because of miscommunication and misunderstanding. I was unaware of the other company during the meeting and accidentally presented the idea of another project belonging to another company. I am aware that because of this, our company might lose business from both companies, which can cause serious losses. I feel ashamed for making such a petty mistake in this position.
I understand that my negligence has affected my overall abilities and all the projects that I have completed successfully, but I assure you that this type of mistake will never happen again. I am agreeable to seeking all types of training or workshops to compensate for my unforgivable mistake.
#3
I am writing this message as a formal apology for my negligence on recent projects. I am fully responsible for all the consequences that may follow as a result of these missteps that I took. I am highly ashamed of the higher management for this negligence because I am aware that they expect brilliant results from me, but I failed to provide them.
My mistake can never be justified because it can cause a great loss for our company and will last for a long period of time. I wanted to explain myself in the following letter regarding the recent incident that took place. I have personal problems at home that are affecting my focus and concentration at work.
I am trying to the best of my ability to sort out these problems, and it will happen in the near future, but due to these reasons, I have not been giving my 100% to my work, which cannot be forgiven. I tried my best to perform well on all the projects that were assigned to me, but I was not able to do so. I deeply regret my mistakes and can do everything to rectify them.
I have already taken essential steps to reduce the chances of such negligence in the future. I have set the following rules for myself while I am at work:
I will not answer any phone calls from home to fully concentrate on my work.
I will make sure that my house problems do not affect my work.
I will seek additional training and workshops to gain professionalism and dedication.
I sincerely apologize to the higher management for my mistakes, and I hope that they will continue to trust me for further projects. I promise to perform better and will not make any excuses.
#4
Dear manager,
I have received a warning letter from you with regard to your negligence on duty. I have been asked in the warning letter to give an explanation of my negligence. I want to say sorry for my negligence. I know that there is no justification for poor performance at work. However, I am giving you an explanation because I was not really meant to neglect my responsibilities.
My wife was very sick at home, and I had to call her many times while I was at work. Due to this, I was often seen using a mobile phone in the workplace.
I assure you that I would not repeat this kind of negligence.
Sincerely.
Signatures.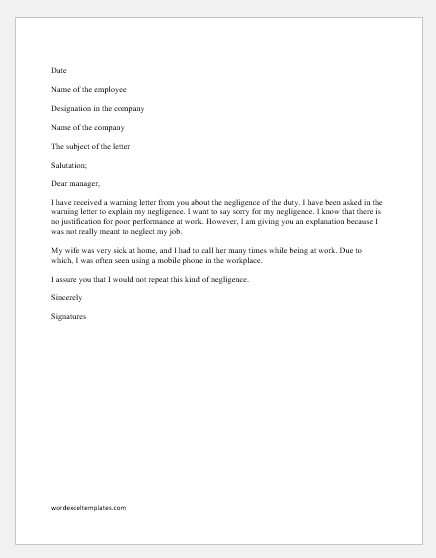 File: Word (.docx) 2007+ and iPad
Size: 17 KB