The use of a donation tracker template makes it easier for you to keep track of all the donations received by an organization. The donations are provided to any organization to make it work smoothly and efficiently. There are lots of tasks related to the operations of an organization such as managing, organizing, and keeping a check on all the activities that are conducted in the organization.
Apart from all these tasks, one of the primary responsibilities is keeping track of all the donations that an organization receives. When you must manage a lot of tasks of the firm, it can be a hard thing for you to perform the accurate calculation of the donations received by the organization. For this purpose, one of the easiest and handy tools on which you can rely on managing the donations is the donation tracker template.
Contents of the donation list:
The main items that are added to an ideal donation list are:
The name of the company
The name of the donator
Donator's country
The number of items donated
The description of all the items
An estimated value of items received in donation
Date of receiving a donation
Signatures of the company's manager
Donation list template:
The template for the donation tracker is available in the spreadsheet format on this website. It is a convenient tool that enables a person to calculate the charity received by the organization. No matter you want to keep track of the charities for the purpose of tax deduction or any other reason, the donation list template can be a useful tool for you.
This template is really very easy to use, and it has some pre-defined print areas in it. All you have to do is input your information and print the document.
Those people who want to keep track of all the incoming and outgoing funds received by the organization can use this template. You can smoothly maintain the record of all the financial transactions related to the donation.
This template can also be modified according to the needs and requirements of the user.
Donation Tracker Template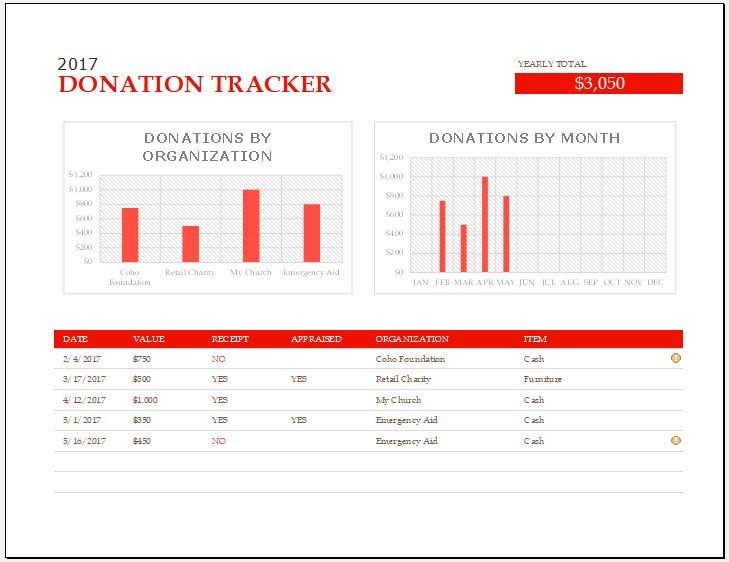 File: Excel (.xls) 2003+ and iPad Size 33 Kb |
Download
License: 
ENERGY
 [Personal Use Only]
---