Health/Fitness Certificates
Almost every individual in any stage of life requires the satisfactory health condition certificate to prove that he is a healthy person. This certificate is used to state that the patient has an adequate health status and he can perform all the tasks exceptionally that are assigned to him.
Moreover, having this certificate also proves that the person has gone through the thorough medical examination. The health certificate is needed for some reasons. Many companies ask the applicants to provide this certificate before hiring him. Some educational institutes also need these certificates before giving admission to the student. You may need this certificate while applying for a visa or for getting insurance.
The doctor issues this certificate on behalf of the hospital where the patient was examined thoroughly. The doctor also signs the certificate which proves the authenticity of the certificate.
Why is satisfactory health condition certificate needed?
These certificates have been found to be the best way to protect everyone from harmful and severe infections. An infected person may infect the people in his surroundings. Apart from this, any organization wants to hire an individual with full fitness so that he can perform his duties well.
For this purpose, the organizations ask for submission of satisfactory health condition certificate. This document is also used to state that the patient has been ill and now he has recovered from it. This is needed when someone needs to give proof of his illness.
The content of the certificate:
This certificate is just like an ordinary health or fitness certificate containing the following details:
Doctor's clinic name
The address of the clinic
Name of the doctor
Name of patient
The date of the examination of the patient
Names of the diseases for which the medical tests have conducted
Statement by the doctor clarifying that the patient has satisfactory health condition
The template for this certificate is also available for your use. If you want to keep this certificate saved on your PC for later use, you can download it free of cost.
Preview and Details of Template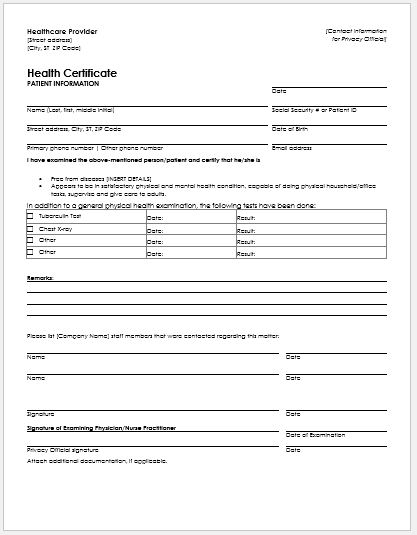 Health Certificate Template
File: Word (.doc) 2003+ and iPad 
Size 33 Kb | Download
License: ENERGY [Personal Use Only]