Kids need a vaccine every month or the other and at times it gets difficult for the parents to keep a record of all the vaccinations that are to be done and that are due. This results in confusion and also results in parents missing the due vaccination because they have not kept a complete record of it. It could be dangerous for the child's health as a missed vaccination can treat his or her health and might result in something serious. This highlights the importance of a child vaccination log and proves that how important it is to keep one so that you know what vaccination has been done already and what is due and that have you missed any or not.
In the busy lives that we have, we can't just remember everything and can't retain everything in our minds. When it comes to your child's health and the vaccinations that are needed, you simply just can't take any risk with that. A child vaccination log will not only make it simple for you to remember but it will keep it systematic and the next time any vaccination is due, you will not have to burden your mind as you only will have to look at it and that's it.
A child vaccination log typically contains columns like the type of vaccine, the date last vaccination was taken, the due date when the next vaccination is due and more details to help you keep a complete record.
Following is given a log that is designed using Microsoft Excel worksheet. Once you download it will be easy to use as its interface is simple and user-friendly. Hope you like it and it will ease your job.
Preview and Details of Template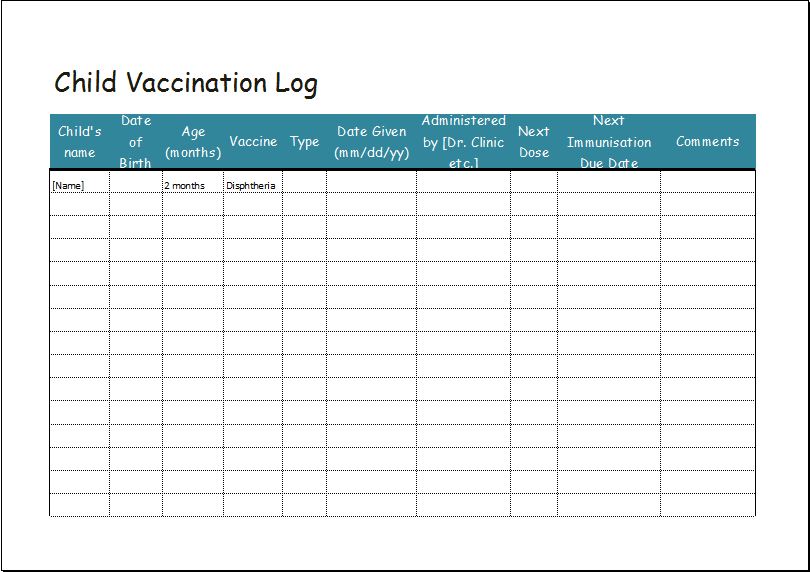 File: Excel (.xls) 2007+ and iPad
Size 32 Kb   |  Download
File: OpenOffice (.ods) Spreadsheet [Calc]
Size 12 Kb   |  Download
License: ENERGY   (Personal Use Only)
(Not for resale and distribution) by Kate Elizabeth(CEO)