We are born with relations such as parents and siblings. So, we have no choice except to accept them. We choose very few relations in our life and one of that relation is the husband wife relation. Marriage undoubtedly is the most important relation of our life.
Our family is our blood and they accept us as who we are. They want us to be happy and successful no matter what. A family is our place where our life begins and where we can be ourselves. We have a lot of people in our life, but no one cares for us the way our family does. Our family takes care of us in all the colors of our lives and due to the immense love and care that we get, we start to lose the value of our family. Most of us do not know the importance of a family.
Marriage is the beginning of a new family. And it is not just a celebration, but it is a commitment for life. Marriage is a relationship which teaches us a lot. The most important habit that a marriage inculcates in us is to become selfless. We get more responsible and start living our life for our family. A marriage is a spiritual and emotional union. We have different bonds in our life like the friendship bond. But marriage is a very diverse bond of love. Your partner becomes your best friend, critique, and supporter. We get a friend for life. And we become more successful in our life if we have a motivating partner.
Marriage is the most beneficial when we get old. Children can leave their parents in pursuit of education and jobs. But the spouses remain together no matter what. People plan their weddings enthusiastically. A newly emerging trend nowadays is to celebrate the bridal shower. Life after marriage changes a lot. You get busy with your new home and new people. Your entire focus revolves around your family. In such situations, it becomes very hard to connect and spend time with old friends. So, a bridal shower is a good opportunity to bid farewell to your bachelor life and get prepared for new challenges. Brides to be plan very creative bridal showers. Some brides even design their own bridal shower invitation cards. If you are not a very creative person, you can get your own invitation cards designed by a professional.
Following are given a couple of templates for bridal shower invitation that is designed using MS Word® software. The use of MS Word makes it easy to edit/customize the details in the card to print and deliver to the loved ones.
Preview and Details of Template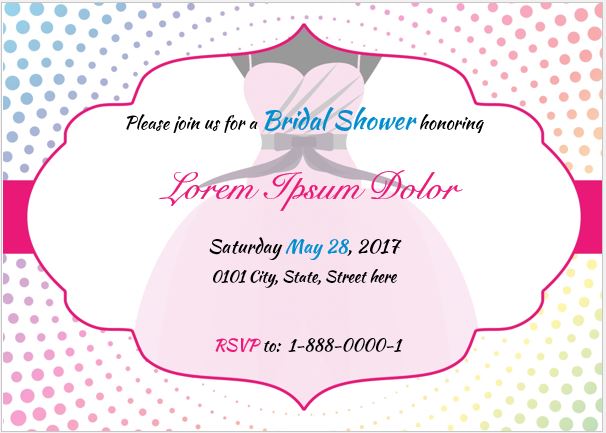 Bridal Shower Invitation Card Template
File: Word (.doc) 2003+ and iPad 
Size 222 Kb | Download
License: ENERGY [Personal Use Only]
---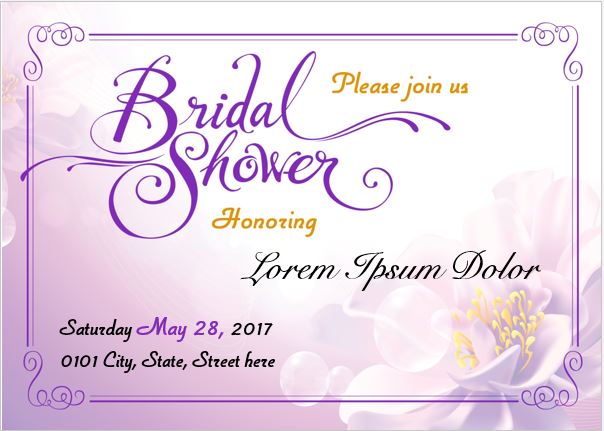 File: Word (.doc) 2003+ and iPad 
Size 305 Kb | Download
License: ENERGY [Personal Use Only]