Employees usually get paid at the end of the month when they finish providing services for a whole month. Employees usually know that on which date their salary will be transferred to their account. However, sometimes they face a situation in which they feel the dire need to have money. For this purpose, they write the advance salary request letter to their employer.
Although the maintenance of the house can be put off for a considerable amount of time, sometimes it becomes imperative to start the maintenance work. The maintenance work requires you to cough up extra money which sometimes costs a lot. Therefore, you often fear that you might lose your shirt with the maintenance if it goes out of control. In this situation, the only option you are left with is asking for an advance salary from your boss.
What is an advance salary?
The amount of salary your employers agree to give you before the payday is known as advance salary. The purpose of this salary is to help you overcome the economic setback. The employer then pays the rest of the salary on the payday. If the employee needs the advance salary of the whole month, then it is considered as a loan that is granted from the employer to his employee.
When to write the advance salary request letter for house maintenance?
You can write this letter in the following situations:
When you want to do the maintenance work but you don't want to ask anyone to borrow you some money, you can ask your boss to pay your salary in advance
When you think that your boss trusts you and he has no qualms about your character.
How to write the request letter for advance salary?
This is a formal letter that you should start immediately with the request for advance salary
Mention why you need the maintenance work and why it is so urgent
Tell the amount that you need from your salary
Thank your boss at the end of the letter
Sample Letters
1-
Re. Request for Advance Salary
Dear Markel,
I am Simon Novel, working as an Assistant Manager in your company. With high reverence, I want to put it into my request to you that I need a salary for next month i.e. August in advance. I need this salary advance to make an instant reconstruction of my house. Due to the situation of flood in the region and heavy rainfall, a portion of my house got affected.
I have consulted a constructor who informed me that the reconstruction of the damaged portion will cost $2000 while my savings account has very little amount. I made a few purchasing and spent all my savings.
I request you to give my salary for August in advance so that I can make the important construction of the damaged area in time. I assure you that it will not affect my working efficiency instead, my affiliation with the work here would get stronger with the high potential of professional relationships and trust.
I shall grateful to you if you make approval of my advance salary request and direct it to the Finance Manager or the General Account Office. Thank you.
Sincerely,
Signature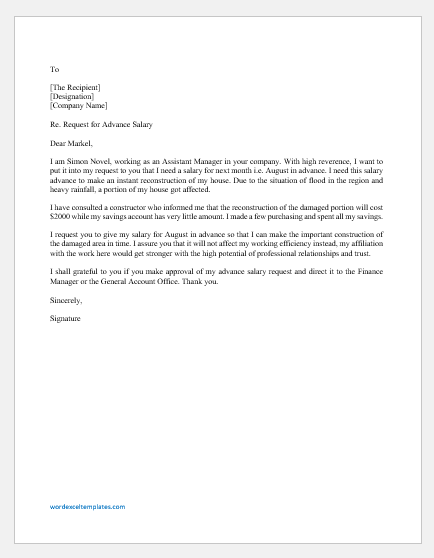 File: Word (.docx) 2007+ and iPad
Size 18 Kb
Download
---
2-
Re. Advance Salary Request for House Maintenance
Dear Eva,
I am writing this letter as a request note to you and aim to get one month's salary in advance. I am working with the company since 2010 and it has been a decade working here. I have been working in the HR region of the company and then got promoted as a General Manager in 2014. I withstood with the company through thick and thin and it made my way to the development of a strong relationship with the company.
This company and I spent an era together and have seen many ups and downs together. Coming short to my point, I am living in Region-9C of Sector 80 location and my house belongs to my ancestors and then inherited to me. The house was built in 1980 and then never got renovated. It, obviously, is in a pitiable position now and the maintenance has become of quintessential importance.
To make the important maintenance, I need $1500 and I am worried that I do not have the required amount. If I do not important maintenance, it may trouble my family and neighborhood at any time. To make up this matter I need your assistance in getting one month's salary advance. It may help me a lot in this regard. Please, give me a chance to thank you enough.
I am looking forward to your kind approval. Thank you.
Sincerely
Signature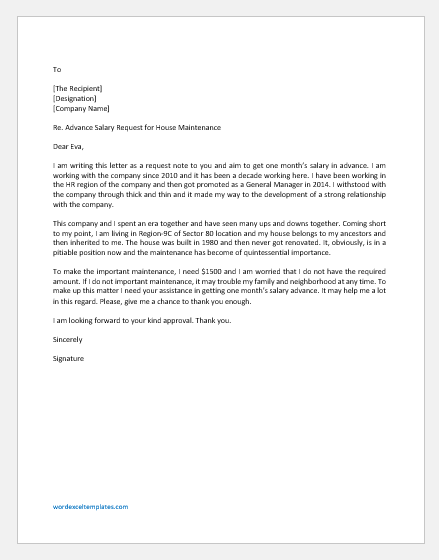 File: Word (.docx) 2007+ and iPad
Size 18 Kb
Download
---