Formal Meeting Minutes Template
Meeting Minutes
Business activities and operations cannot be effective without good communication and coordination. There are a number of stakeholders involved in a business organization. Starting from customer, employee, suppliers to regulatory authorities, alliances and partners.
All these stakeholders need to remain in constant communication with each other so that their coordinated efforts can lead to a synergized outcome and accomplishment of goals. Meetings with people are one of the key methods to communicate and converse.
It is a direct contact between people where they not only exchange ideas and thoughts but share information and documents. But it is important that these meetings should be monitored for future references. For this purpose, the meeting minutes are recorded.
Minutes of the meeting are a word by word recording or writing of the conversations and discussions that take place in a meeting.
One key person in the organization is assigned to record them. He/she can use the sample template for the purpose. The said template is a general document that can be modified according to your own needs and requirements.
It is a very important and essential organizational document that is used for official purposes. It includes the agenda of the meeting, the crucial points discussed and any special decisions taken in the meeting.
It lists down names of all the participants that are taking part and write their conversations very accurately. This document is used for future references or may be shared with those stakeholders who were not present at that time.
Preview and Details of Template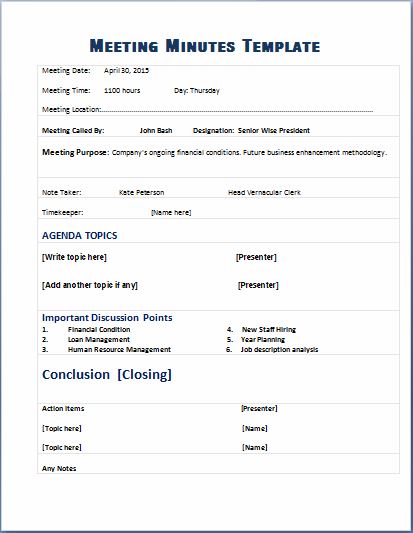 File:Word (.doc) 2007+ and iPad
Size 10 Kb   |    Download
File: OpenOffice (.odt) Writer [Writer]
Size 15 Kb   |    Download
License: ENERGY   (Personal Use Only)
(Not for resale and distribution) by Kate Elizabeth(CEO)
---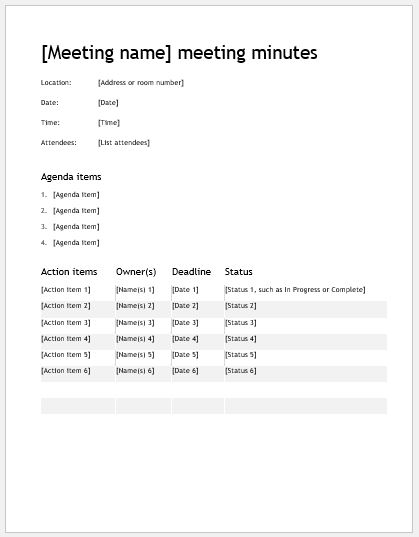 File:Word (.doc) 2007+ and iPad
Size 10 Kb   |    Download