Invoice Correction Letter Template
Invoice Correction Letter
An invoice correction letter is used to notify a client about an error that mistakenly made on their invoice and the corrected invoice is enclosed with this letter, seeking an apology for the mistake in the invoice. Mistakes can happen and mistakes happen at the time of sending an invoice to the client due to different reasons. It can be a human error or if any software is used, there may be some auto generated mistake. The first principle to deal with such error is to acknowledge and admit your mistake with your client and should seriously and politely seek apology for the mistake made so that you may not lose this client in future due to this mistake.
Along with the apology, you should explain the reason of mistake and ensure that such mistakes would not happen in future and all upcoming documentation will be done with utmost attention and carefulness. You should also express your feeling to your client that you really value his business and sincerely wish to continue dealing with him.
About Template
Similarly, an invoice correction letter is also used by a client who has received a wrong invoice. In that case, the client needs to comprehensively explain the mistakes and errors in an invoice to the sender and give them an opportunity of rectifying the invoice and call their customer services department if required. This invoice letter starts with the sender name with complete address, then receiver name with complete address, date of the letter and then the body of a letter explaining the details of mistake or error and then request for required measures.
Preview and Details of Template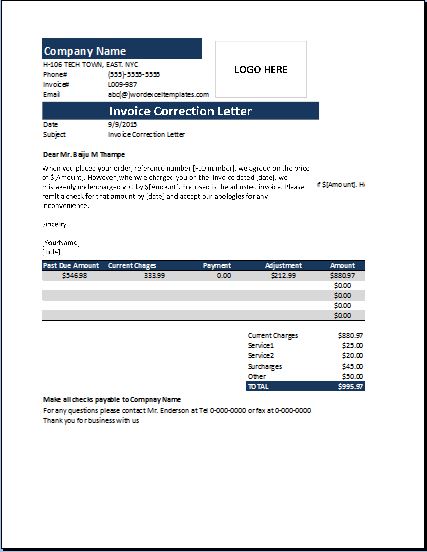 File:Excel (.xls) 2007+ and iPad
Size 45 Kb   |    Download
File: OpenOffice (.ods) Spreadsheet [Calc]
Size 21 Kb   |     Download
License: ENERGY   (Personal Use Only)
(Not for resale and distribution) by Kate Elizabeth(CEO)