We are living in a business world where money and economy are some of the common words we come across every day. The world economy seems very mundane and we think we know its meaning. But actually, the word economy has been evolving around with the change in technology. Products were thought to be the only economy but recently, economy comprises a major part of the service industry.
The service sector is booming globally and no economy can be successful without the service industry. With the advancement in the service industry, we are able to understand human needs which we didn't even know existed. The service sector has made a mark everywhere from small individual based companies to large giants, services are a major way to attract customers. Economic history has indicated that every developed economy has gone through phases of growth. Developed economies have shifted from agriculture to service industries.
Service organizations vary in size. We see small service providers such as restaurants, clothing boutiques, salons, and cafes. We even see large service providing industries such as the medical, air transport and education. The service industry has given us a way to live by revolutionizing our lives. Imagine, getting a service at your doorstep by just making a phone call. With the ease of getting these services, human needs are growing every day and the service industry is putting efforts for continuous improvement.
When we buy a faulty product, we can get it replaced by the vendor or we can get a money back. But if the service we receive is not up to the mark, what can we do about it? With the growth of service industry, the challenges of service industry are also increasing. Upsetting a customer means losing your goodwill. Customer service is the heart of any service industry. For this reason, the service industry is always investing in providing the best customer services in whatever ways they can.
With the difference in dynamics, the metrics to measure performance in the service industry are very different. When we eat lunch in a restaurant, we get a comment card in the end. This comment card might not be important for us. But it means a lot for the restaurant. This is one of the best ways to judge their performance. This comment card is a perfect example of the service report. With every service, customers get a form, which is used to record their comments. These comments are then recorded for the purpose of further improvement. The service report can aid the service management to draw KPI's and mark their performance accordingly.
The following service report templates are an example from different service provider groups. DOWNLOAD & use for the purpose.
Preview and Details of Templates
Customer Service Report Template
File: Word (.doc) 2003+ and iPad 
Size 62 Kb | Download
---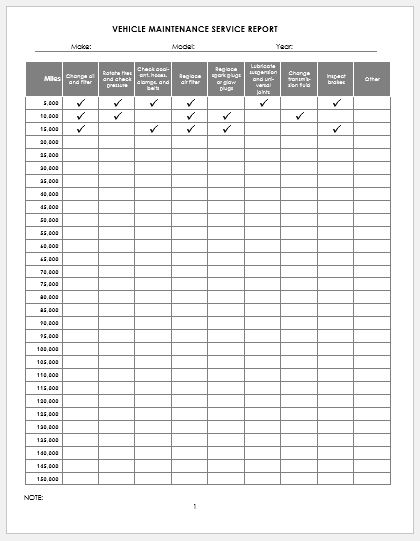 Vehicle Maintenance Service Report Template
File: Word (.doc) 2003+ and iPad 
Size 62 Kb | Download
---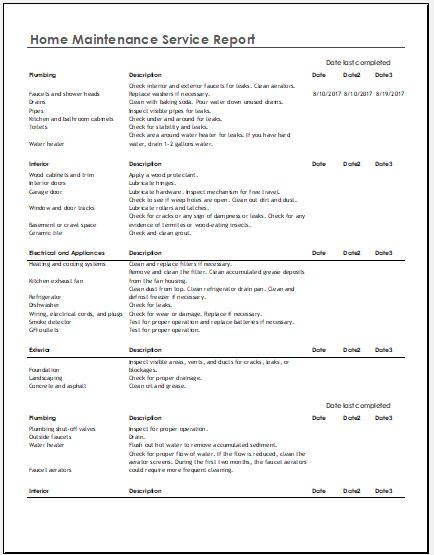 Home Maintenance Service Report Template
File: Excel (.xls) 2003+ and iPad 
Size 29 Kb | Download