The COVID-19 pandemic has sabotaged human life in all the possible manners and is nowhere close to its end. Where staying at home and practicing social distancing is the need of the hour and is, by all means, beneficial for all of us, it has jammed our lives to the point where abandoning it seems the only possible solution to avoid loss of many. With the authorities' orders of lockdowns throughout the world, one important pillar of our society that is being consistently going down in terms of its economic setup is the business class. Even when small shop owners as well as the considerably bigger businesses have been made to shut down their working for their own good, this stoppage has made it impossible for them to earn and make the most out of their investments.
Most of the modern world's businesses operate with the business owner renting a property on a monthly basis. However, now that the businesses are facing music in terms of very low to almost no earning under the lockdown, paying higher amounts to the landlord in lieu of commercial rents is getting increasingly difficult for the businessmen.
Not paying the rent after the due date has passed without intimating your landlord of the reasons can get you in trouble. Because he is not being given his due share, your landlord is likely to force you out with all your belongings. To avoid all such hassle during the already-tormenting pandemic days, the best course of action would be to have a prior deal with your landlord about the rent so that you are saved from the trouble.
In the case of your inability to pay the fixed rent because it puts pressure on your current economic standings, you must request your landlord to decrease your commercial rent at least till the pandemic is here. The best idea is to send a well-crafted and persuasive letter of request to the concerned party stating your problems. Here is a sample letter that you can edit to suit your argument under such a scenario:
Sample Letter
To,
Mr. Landlord,
Shop no. XYZ,
[Property's Address]
Subject: Request letter for the decrease in commercial rent due to economic pressure under the current pandemic
Sir/Madam,
I am writing this letter to you with sheer embarrassment as I am currently not in the financial state fit for the payment of our fixed rent amount for your property under my use.
Because lockdown has blown away my earnings without bringing any rest to my everyday expenditure, I am ashamed to say that my current savings only allow me to pay 70% of the due rent fixed between us. I have all my stockpiled up in the rented space and cannot afford to shift it anywhere else under these uncertain times. Under this problematic state of affairs, I think only you can help me by decreasing the amount payable to you from my side as rent. We can go back to the previous course of payment once the lockdown is lifted.
I apologize for the trouble but with a hope that you will understand what I am going through. It will be kind of you to accept my request letter.
Your sincerely,
XYZ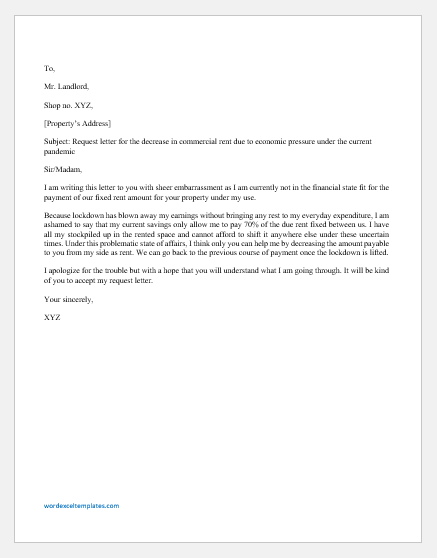 File: Word (.docx) 2007+ and iPad
Size 22 Kb
Download
---