A proposal letter for the NGO partnership is a letter, that is written by an NGO, and is addressed to an organization, that may get interested in partnering with the NGO. In this letter, the NGO states the benefits, that can be availed by the organization by doing the partnership. In addition, the NGO tries to convince the organization for accepting its proposal, as the deal can be advantageous for it as well.
NGOs are non-government organizations, that, usually, work for the improvement of society, and attempt to address social issues. People and organizations often donate to them, so that they can promote themselves as the community and society-supportive individuals and organizations.
NGOs may want to do partnerships with other organizations due to the associated advantages, which are mutual, and the organization will also get benefited as well. A few of them are stated here:
The NGO will get a constant stream of work and income, and the organization will get increased social acceptance.
The organization's reputation would improve due to its link with the NGO, and it would attract more customers.
The strengths of the NGO and the organization can be shared, and hence, can be taken advantage of in the best possible manner.
The overall cost may get reduced, leading to higher profitability.
When the NGO wants to give a partnership proposal to an organization, this letter would be sent by the NGO to it. The details and length of this letter may vary as per the circumstances and the requirements. However, generally, the following information is included in such letters:
Details of the organization.
Details of the NGO.
The proposal of partnership.
Experience and expertise.
Benefits.
Convincing statements.
Show hopefulness.
Mention any attached documents.
Salutation and regards.
Signature.
When this letter is received by the organization, it would weigh the pros and cons of partnering with the NGO. If the pros are higher, it would sign the deal to avail of the benefits. In the opposite scenario, it would reject the deal, and the NGO might have to look for another partner.
Sample Letter
Dear Mr. David,
I am writing this letter to propose our partnership deal to your company ABC Limited, which is working as NGO.
We have been operating in the market for more than ten years. Our NGO is focused on giving work to women, who are not well educated. For that purpose, we have opened two stitching centers, where we first train the women, and then hire them, so that they can at least stand on their feet. Currently, we have a team of 60 members, who have completed their training, and 10 members, who are in the process. Furthermore, all our machines are the latest and imported from Japan.
As we provide free-of-cost training, we need funds and donations to operate these centers. We have few of our regular donors. However, we have deemed another option to support our NGO, and hence, these women.
As your company XYZ Limited is in a clothing business, we want to propose to you to partner with us. We can get your clothes stitched at a reasonable price, and in this way, we will be relaxed about a constant inflow of funds to cover our expenses as well. Due to the lower cost of stitching, your profit margins would increase. In addition, as we are well-reputed for doing social work for women, your company will get positive publicity for being a socially supportive firm.
A detailed proposal is attached to this letter. We hope you will consider our offer, and we hope to work in partnership with XYZ Limited.
Waiting for your response. Thank you.
Regards,
Samantha Wilson.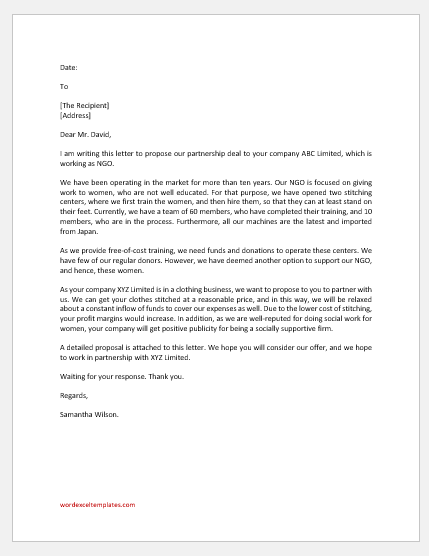 File: Word (.docx) 2007+ and iPad
Size 28 KB