Every organization has a leave policy in which they define what kinds of leaves are available to an employee and how many leaves of each kind are allowed in a year. Usually, all organizations give casual leaves, annual leaves, medical leaves, and maternity leaves.
These are mostly paid leaves enabling employees to carry on with their personal lives as well. Casual leaves may be taken to attend to personal chores such as getting the car fixed, repairing property or equipment, going to the bank, going to the hospital or any other tasks associated with daily life.
Annual leaves are usually taken by employees to unwind after months of hard work. Annual leaves may be taken at any time during the year except for important business events such as quarterly reporting or annual closing.
Maternity leaves are available for women who have just given birth and need to look after their babies. Maternity leaves are often unpaid. Finally, if a person is ill, they may take a sick leave. All of these leaves are limited in time.
Sick leaves are often taken suddenly if an employee wakes up not feeling well. Although employees may also plan sick leaves for treatment or getting operated based on their appointment with the medical practitioner. If an employee is not feeling well, it is a usually responsible behavior to inform at the office as soon as possible.
The best route to inform the boss about the sick leave is to talk or write to him directly, asking to be excused. If you are looking for how to write to your boss, have a look at our sample letters:
1: Emergency sick leave for a day
Subject:                Sick leave
Dear Sir/Madam,
This is to inform you that I am not feeling well and will not be able to come to work today. Since yesterday afternoon, I have had severe stomach infection causing me to vomit frequently and feel dizzy. I would appreciate if you can approve my sick leave for today. I have taken medicine and hope to feel better soon.
Look forward to your cooperation.
Sincerely,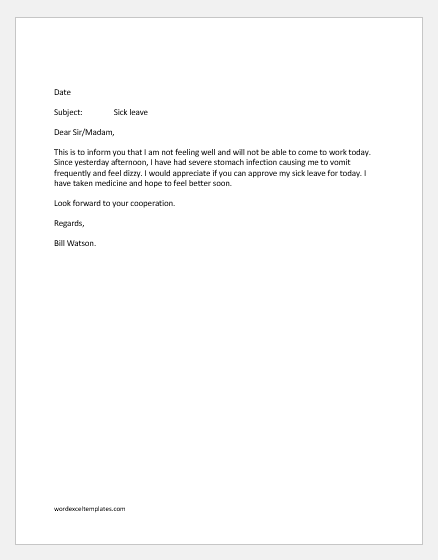 2: Planned sick leave for a week
Subject: Sick leave for one week
Dear Sir/Madam,
I am writing to request medical leave for one week. I have a surgery scheduled on [enter date]. I have been advised to admit myself in the hospital a day earlier and will be under observation for two days after surgery. I will still need a few days to recover, therefore I am requesting for one week's medical leave. I hope to be back to work from [enter date].
Kindly, approve my medical leave. Thanks for your cooperation.
Sincerely,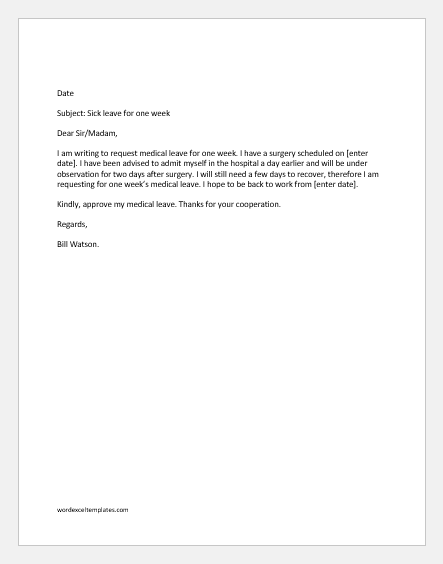 3: Extended sick leave without pay
Subject: Leave for medical treatment
Dear Sir/Madam,
I am writing to inform you that I have been ill for a very long time. I have [enter medial issue]. My treatment has been going on for the past two years; however, my situation is worsening without rest. The doctor has advised me to take complete best rest for at least five weeks. I understand that I have exhausted my paid medical leaves. Therefore, I am writing to request an extended medical leave for five weeks starting [enter date].
I hope to feel better after rest and physiotherapy. Look forward to your understanding.
Sincerely,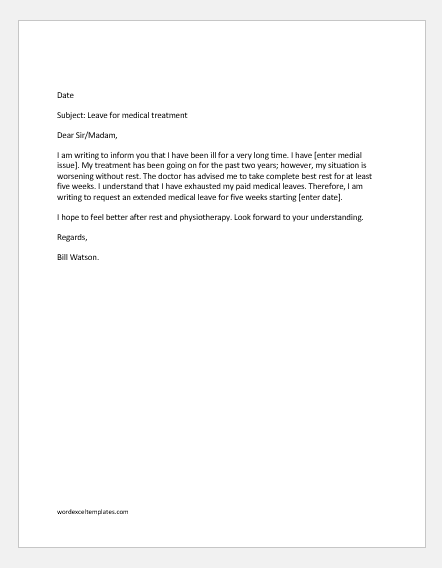 ---
Not Feeling Well Email Samples
View Sample Emails