Businesses run and grow on various prospects. And it is very important to analyze the progress regularly. There could be various ways to monitor the progress. But not only monitoring is important, it is also important to discuss the goods and bad. We know having meetings is very common for every company. And it should be a part of any work routine.
What is a meeting agenda sheet?
Planning in life is very important. Without a plan, the outcome of the activity can be reduced by quite a lot. Therefore, there should be a proper plan for a meeting as well. The plan for a meeting is known as the agenda. Having an agenda for the meeting is very important as it will tell us what to discuss and when to discuss. Preparing a meeting agenda sheet will help everything go in an organized manner. The formal outline of the meeting should be mentioned on this sheet.
Meeting agenda sheets for various meeting types
The basic functionality of any meeting agenda sheet is to keep the meeting focused and move in one direction. The agenda will include all the topics that will be covered during the meeting. Time can also be allocated to each discussion topic. The meeting agenda sheet can be used for various meeting types. It can be used for formal as well as informal meetings. Adjustable meetings may also use a meeting agenda. This type of meetings are not time bound and they can take place anytime. A detailed agenda can be formulated and used for project meetings. As the name suggests, this type of meetings is more focused on just the project.
Format of the sheet
A meeting agenda sheet is a formal document. The sheet will include the agenda header. The agenda header is a brief summary of the meeting. It includes the time and dates of the meeting. It can also include the location of the meeting. Then comes the agenda topic. There could be more than one topic for the meeting. It is better to list down all the agendas in order to remember every aspect.
Why is the meeting agenda sheet important?
By now, we have understood that the most important factor is to be mindful of every aspect and not to miss anything. Written words help us organize and lead the meetings in a successful way. Most of the companies prepare the agenda sheets before the meeting and distribute it among the employees. This helps the employees to do necessary preparations. Employees might be having their own concerns and with the timeline of the meeting in mind, they will get an opportunity to sign out their own concerns.
Preview and Details of Template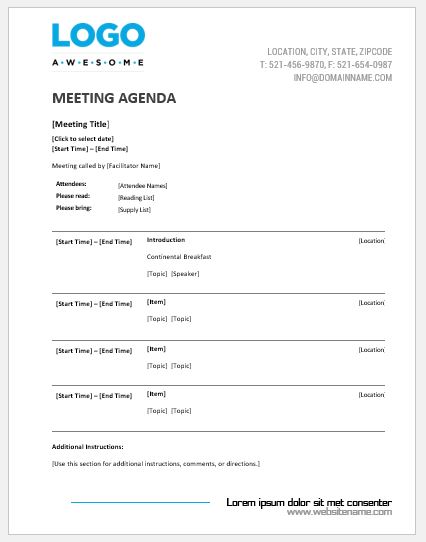 Template
File: Word (.doc) 2003+ and iPad 
Size 75 Kb | Download
[Personal Use Only]
---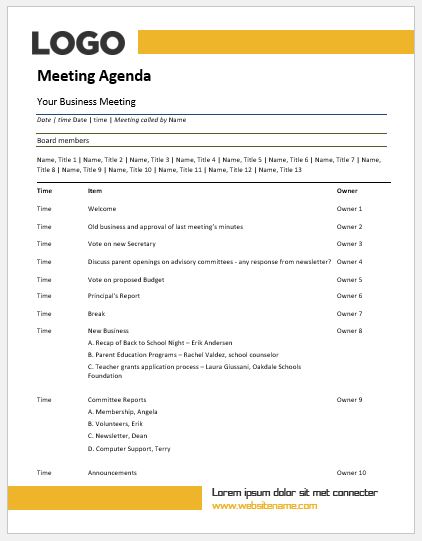 Template
File: Word (.doc) 2003+ and iPad 
Size 68 Kb | Download
[Personal Use Only]