Mileage Logs
For any business tracking purpose, it is important for you to keep track of the gas mileage of your business vehicle. With the help of this log, a person can keep track of the cost of the travel, the total consumption of gas and a lot of other details related to the gas mileage. Some people also like to use this log for the purpose of reimbursement. This simplifies the process of tracking the mileage so that the budget of the individual can be controlled.
Details to be included in the gas mileage log:
The main items to be included in the gas mileage log are:
The name and particulars of the driver
The name of the department
Vehicle details such as id number, license number
The dates on which the user of the log will keep recording the mileage
Recorded mileage at the start
Recorded distance at the end
Total number of miles that have been covered by the purpose of business
Total miles covered for personal traveling
Total cost of the miles covered on a trip
Some logs also contain space at the end for the user where he can give notes as required
About Template
The use of gas mileage tracker makes it easier for the person to remove all the pending dues. The template for the mileage log can also be downloaded from this website. This template is simple to use and contains many customizable features that make it convenient for the user to edit this worksheet according to his needs. This log is present in MS Excel format and also work as vehicle mileage tracking.
Keeping the mileage log worksheet is very important for you if you want to get the deductions in tax returns. Many people check their vehicle's mileage after regular interval of time but don't bring it in written form. Using a document can be helpful for you because it starts recording everything about the gas mileage and can give you a sufficient amount of information at the end.
Preview and Details of Template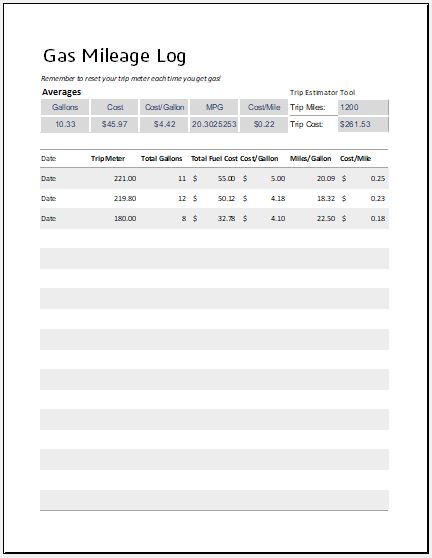 Gas Mileage Log Template
File: Excel (.xls) 2003+ and iPad 
Size 22 Kb | Download
License: ENERGY [Personal Use Only]