It is a dream of every individual to get home. However, converting the dreams into reality is a bit challenging. Buying a property has never been easier. It requires a lot of things to consider before making the decision. Only a bad decision can ruin your entire home buying deal. Due to this, one should be careful enough to avoid doing such mistakes.
What is buying a home checklist?
It is a checklist that includes the list of tasks to be done while buying a home. This checklist has primarily been designed for those people who are thinking to buy a home but don't know how to get things done.
Are you one of those who is planning to purchase a house? If you are, then you must know that there are some basic guidelines which you need to follow in order to make your house buying process as smooth as possible. Buying a home is not always a simple and easy process as there are lots of aspects which you need to focus on.
A home buying checklist enables you to plan your house purchase in a most effective way. It has all the tools for you through which you can carry out this stressful phase conveniently.
The checklist will help you to keep track of important details and make sure nothing important is being missed.
About Template
MS Excel's buying a home checklist template is a highly reliable tool for first-time house buyers. It helps them in focusing on all kinds of small and large aspects of the house in order to ensure that the house you are purchasing remains defect-free. Some of the important guidelines for first time home buyers are discussed below:
If you're buying a house for the first time, then make sure that your new home is close to all the basic facilities in the form of shops, markets, schools, transportation, playground etc.
The road size near your house should be wider in order to allow easy access to both indoors as well as outdoors.
House fixtures, leakages, room size, natural air flow, pipes, gas lines, and ventilation are some other important points for you to consider.
Preview and details of the template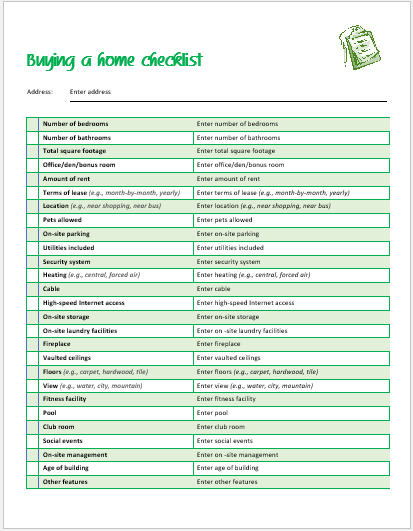 File: Word (.doc) 2007+ and iPad Size 28 Kb |
Download
File: OpenOffice (.odt) Writer [Writer] Size 17 Kb |
Download
License: ENERGY
(Distribution) by Kate Elizabeth(CEO)
---
Why to use buying a home checklist template?
Buying a home sometimes requires a complete guidance that provides the home user with a clear direction to follow when it comes to purchasing a home. People wanting to buy the house and get the instructions and assistance at the same time can make completely rely on the checklist template. The process of buying a home becomes simpler when you use the checklist template.
Moreover, it also helps from the start until the deal is finalized. The checklist is a useful document to be used because it also provides those steps to be taken while conducting the complete inspection of the house's condition which is the primary thing to be considered while buying a home.
Benefits of using the template:
The home buying template is a great tool to be used because it enables the user to collect all the information about the house that needs to be obtained when it comes to making the decision regarding whether to buy the home or not.
The template contains all the things to be done in the form of checklist due to which there is very less chance of forgetting an important detail. The user can simply check each task after accomplishing.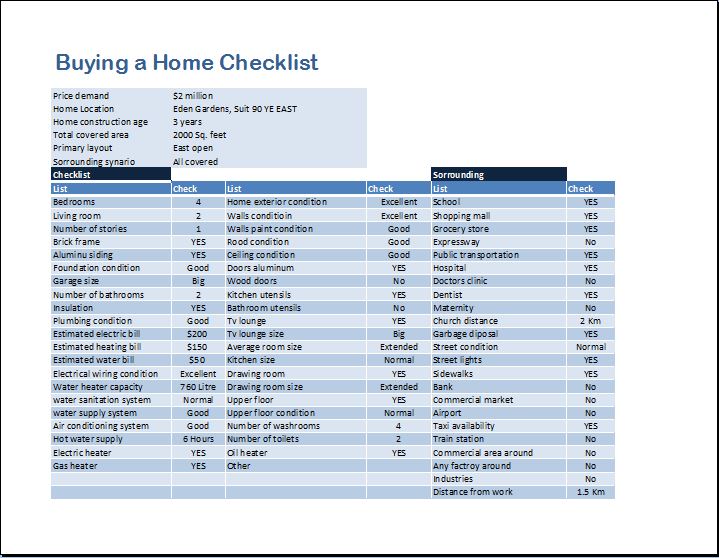 The template also provides the feature to modify it that makes it extremely useful for the user. The user can download the template free of cost.