As a matter of fact, correspondence between the landlord and the tenant is very common. It is inevitable for a tenant and his landlord to not contact each other after signing the contract of tenancy with each other.
There are many reasons due to which the correspondence between the landlord and tenant takes place. One of the major reasons the tenant writes the letter to his landlord is an apology letter for illegal modification.
Importance of apology letter to landlord
The tenancy contract between the tenant and the landlord defines the rights of both parties. This contract also describes the responsibilities and limitations of both parties. Since the landlord is an owner of the property, he can define the limitations of the tenant. The landlord can stipulate that the tenant is not allowed to bring any type of modification of the property unless the landlord allows him. Any type of modification that is done without the consent of the landlord is considered as an illegal activity. The landlord has a right to terminate the contract of tenancy with the tenant and can also take legal actions against him.
The tenant can alleviate the situation by writing the apology letter to his landlord. The apology letter enables the tenant to apologies to the landlord for his action. He can also tell the employer what he can do to compensate for the loss of the landlord. In this way, the tenant can preclude the unpleasant situation such as dealing with legal processes and much more.
Tips for writing the apology letter to landlord for illegal modification
When you write the apology letter to your landlord, make sure that you keep the following things in mind.
Write the letter in a humble tone. When you write the apology letter, you should come off as a person who is very down to earth who has the audacity to apology for his wrongdoings.
Make sure that you stay relevant to your purpose of writing. There is no use including the details in the letter which are not relevant.
Don't try to give justifications in the letter that can make the landlord feel that you are trying to justify your mistake.
Sample letter
Name of the tenant
Complete address of the tenant
The subject of the letter
Salutation
Dear Mr. ABC
I feel really regretful for bringing modification to the building. I am well aware of the fact that you signed the contract of tenancy with me on the premise that I will not modify the building you are renting me.
I had to undergo the modification because it was imperative for me. However, it does not justify my wrong action. I believe that I should have asked you before I could go for the modification. This is my mistake, and I really regret having done that.
I hope that you will forgive me for my wrong action. I am ready to compensate you for the wrong action.
Sincerely
Signatures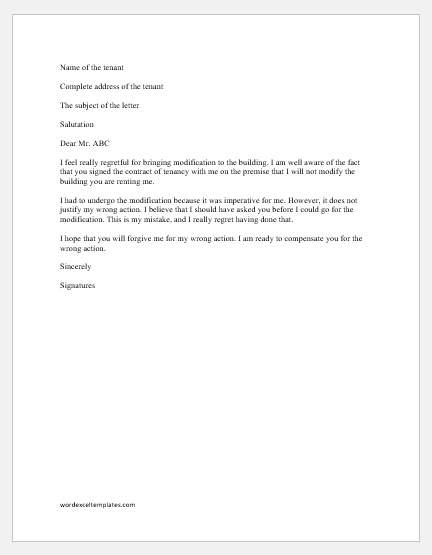 File: Word (.docx) 2007+ and iPad Size 17 Kb |
Download
---