Patient Medical Bill Tracker
Medical Bill Tracker
Knowing how much you have spent on your medical bills and how much more you owe is very important for people who are experiencing medical issues. Being aware of your medical expenses can help you stay organized and prevent the situation from escalating during the times of emergency. Most of the health care providers also face this issue where the medical expenses in the form of billing statements keep piling up until they become difficult to pay off. If you're one of that individual who has been in this mess, then using the patient medical tracker can fetch you amazing results.
About Template
The patient medical bill tracker template designed in Excel is a valuable tool for patients. It allows you to keep track of your medical bills regardless of where you are. This unique template provides patients with great flexibility. No matter where you are, you can easily go through the template using a computer or just a Smartphone.
The given bill tracker works through stating crucial details such as what the insurance is paying you for your medical expenses and what you have already spent. This feature keeps you on track and ensures that you keep a balance between the expenses and the insurance money.
Just insert the data such as the amount insurance company has covered; expenses out of your own pocket; services availed; the total amount and the software do the rest of the work automatically. It is also important for you to update the template whenever you bear a new expense or get paid by the insurance.
Preview and Details of Template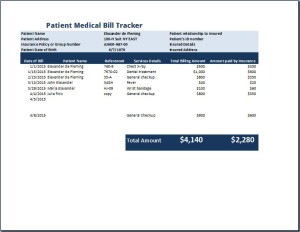 File:Excel (.xls) 2007+ and iPad
Size 22 Kb   |    Download
File: OpenOffice (.ods) Spreadsheet [Calc]
Size 17 Kb   |     Download
License: ENERGY   (Personal Use Only)
(Not for resale and distribution) by Kate Elizabeth(CEO)