Official Design Rate Sheet Template
Rate Sheet
There is a number of documents that are used for official purposes and reasons in the business entities. Some of these documents are specific to the department while others are used all across the organization without any discrimination. When we look at the finance department of a company or organization it is one of the most important functions among all. Various documents are used on daily basis in the finance departments. These are used to keep an account of the money used and the money that comes into the organization.
In other words, financial documents help assess the financial position or operations of the business. The rate sheet is one such document that is widely used in organizations and their finance departments. We all want to find out the real value and worth of our business ventures. Sometimes this is needed to assess the selling price of the business while other times it only acts as a motivational and encouraging figure to help you progress more.
The rate sheet is a technical document that can help you find it out. This document can be created using the helpful rate sheet template. All you need to do is search for it on the internet and download it. Then make the necessary additions and deletions in the sample template to come up with your own rate sheet document. This may vary from company to company but the basic format and requirements will remain the same in all companies and industries.
Preview and Details of Template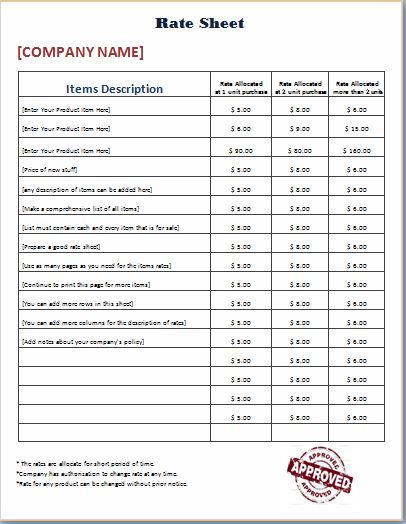 File:Word (.doc) 2007+ and iPad
Size 22 Kb   |    Download
File: OpenOffice (.odt) Writer [Writer]
Size 32 Kb   |    Download
License: ENERGY   (Personal Use Only)
(Not for resale and distribution) by Kate Elizabeth(CEO)