As the trend of dining out somewhere fancy is getting more common day by day, the problem of overcrowding is also at its peak. The restaurants which remained vacant throughout the year except for public holidays or events now seem to be filled with hungry customers, even on weekdays. This shows that the people now a day's love to eat at different restaurants and they are encouraging the food industry.
On the one hand, where this is a positive sign for the food business, on the other hand, it is becoming a headache for the dinners. The concept of suddenly planned dinner or lunch is lost somewhere as everyone is expected to have a reservation before they reach the desired restaurant. In this way, they will have their own table reserved for them and they will not have to wait in long waiting list before getting a chair to sit on. Yes, this really happens.
Usually, this happens in most of the famous restaurants, especially on the weekends or special events that one must make a reservation to ensure that they get well seated when they reach the restaurant.
Where it is beneficial for the customer and the restaurant, in the same way, it sometimes creates a major problem for the management. They may have reserved a table for someone and for this purpose, will have to reject some other customers. This affects the revenue and the reputation of the restaurant.
The restaurants which are using software keep the track of reservations on it, but the small scaled restaurants can also keep everything recorded by using a restaurant table reservation checklist template. Just by adding a logo and making a few modifications it can be used for daily uses and a lot of benefits can be derived out of it. Simply by writing the names, contact details and other details like a number of people for whom reservation needs to be done and sometimes the purpose of reservation like a birthday party, in the columns can minimize the problem by at least twofold. When the customers arrive the manager can simply tick off against the column.
Preview and Details of Template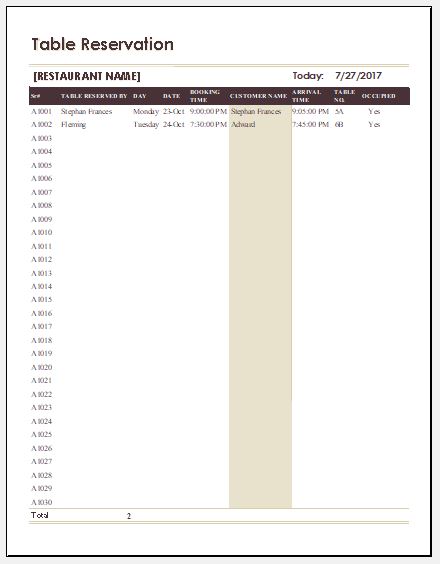 Restaurant Table Reservation Checklist Template
File: Excel (.xls) 2003+ and iPad 
Size 49 Kb | Download
License: ENERGY [Personal Use Only]