We hire cleaning companies so that we can buy cleaning services from them. Cleaning companies are specialized organizations that have talented and qualified people who perform the job of cleaning well.
It is a letter in which you object to the quality of the services that you are being provided after you have purchased the services. Since you are a client of a company, it is your right to let the corporate know that you are not satisfied with the quality of services being provided.
What does a complaint letter to the cleaning company do?
When you write a complaint letter, you show that you have a problem with the service provider and you want it to be resolved. This letter lets the company know that its workers are not working up to the mark and therefore, things need to be fixed.
Professional service providers take this letter as useful feedback also because it lets them know that there is a room for improvement. Therefore, they welcome complaint letters and embrace them.
How to write an effective complaint letter?
Complaint letters are required to be written in an efficacious manner if you want your message to be conveyed appropriately. In addition to it, the targeted company will be in the position to take action and resolve the matter only if you have composed a complaint letter that has been written in a professional way. Below are some tips to follow:
Give your introduction:
When you object to a service, you show that it has some problem. The service provider gets a message to reconsider the quality of the service being provided. It is important to start this letter with your introduction to let the reader know about you.
Explain how you think that company is not performing its job well:
Since the complaint is based on poor services, you are required to communicate how you think that workers are not performing their job well. For this purpose, you should give some important points to support your arguments. For instance, you can tell that toilets are not clean or you can also write that other people in the office are also complaining about the poor hygienic conditions of the office.
Mention what you expect:
As a customer, it is clear that you expect a lot from a company when it is providing cleaning services especially when you have paid the service charges. Mention that you expect a lot from the company and poor services have disappointed you.
Provide your contact details:
The stakeholders of the corporate might want to know more about the matter to reach the responsible people behind this complaint because this is the only way, they can resolve the matter. So, provide your contact details and ask the company to contact you if there is more information required.
Make sure that you remain polite to explain your problem since you are required to explain your anger not express it. If you do it appropriately with care, you can easily compose a letter that will yield fruitful results.
Sample complaint letter:
Dear Mr. ABC,
I have hired ABC cleaning company for providing cleaning services to my office on (mention the date). The charges charged by the company were also paid transaction of which was carried out on (mention the date).
Unfortunately, the services your company is providing are not at my satisfaction level. I daily notice that the toilet of my office is not clean. My employees also complain about it. My office is also not cleaned properly and I daily see the dust on my table and windows of the office.
I am disappointed by the services you are giving to me and I was not expecting this level of unprofessional service. I would like to draw your attention to this matter and I am sure that you will resolve this issue. To know anything else about this matter, you can reach me via email or the phone number I have already provided to you.
Regards,
Name of the customer
Signatures
_____________________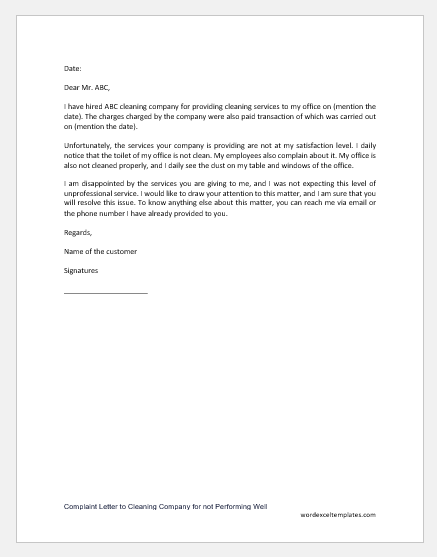 File: Word (.docx)
Size 23 KB
See also: