What is a memo?
A memo is a kind of business document that is used to communicate a message. When an organization has to convey a message from one person/group to another, it uses a memo to convey that message. Organizations usually use formal ways to communicate because it is their top priority to get the message across without any confusion. There are various ways to convey a method such as writing an email or sending a verbal message, a memo has its significance.
What is the memo in the adjustment of office hours?
When the administration of the office has to convey a message about the adjustment of office hours, it will issue a memo to all those people who are affected by the new adjustment. This enables everyone to know about new office hours and adjust accordingly. Memo in the adjustment of office hours is generally written to an individual who wants adjustment due to some problem. However, in some cases, an organization writes to a group of people.
Why it is important to write a memo to inform people about office hours change?
The memo is a useful piece of writing that allows a supervisor to let his message spread among all the concerned people. Whenever there are special instructions for the staff of the office pertaining to the changing office hours, the memo is the best document to write. The supervisor can also choose to write the letter. However, the letter fails to grab the attention of the people.
Moreover, it is not a feasible practice to write letters to each and every person individually. When people receive a memo, they know that it is something their supervisor or manager has written to convey an important message regarding policies of the company or anything important. So, pay attention to it and read it carefully.
How to write a memo for communicating adjustment in hours?
Below is a step by step guide that will help you effectively write a memo:
Mention the recipient's name:
A memo can be written to a single person or a group of people. So, according to who is going to read this memo, you should adjust who to address in the memo. If you are writing to one employee because you are adjusting his office hours, start the memo by mentioning his name at the top.
Give details of adjustment in office hours
In this part of the memorandum, you are required to inform the recipient that how you have made adjustments in the working hours. Here you will comprehensively give details.
For instance, if the employee is going to stay away from work on working days and wants to adjust those working hours in a weekend, start by letting him know about the number of hours he is allowed to stay away from work and then inform him as to how you have adjusted those allowed number of hours in weekend.
Give special instructions:
The memo also includes special instructions regarding a new decision or the policy that is communicated. So, you can let the employee know about what he should follow and how he is supposed to be working with the adjusted working hours without impacting the operation of the organization or his job.
Here you can also mention what the employee is not allowed to do. Also, let him know that his performance is being tracked and his number of hours is also being constantly monitored. So, he is expected to work honestly.
Ask him to respond:
At the end of the memorandum, you should ask the employee to review the entire memo and pay close attention to the details of the adjusted working hours carefully and then write back to you in case he has any problem or if he wants to have an adjustment differently. This is the last part of the memo where you will conclude your message for the employee.
Show some courtesy here and let the employee know that you are pleased to have been able to adjust the request of the employee. Mention the date of the memo and affix your signatures before closing.
Sample Memo
To: Recipient Name
From: Your Name
Subject: Adjustment of office hours
Date:
Dear staff,
I would like to inform you that I am writing this memorandum to tell you about the new office timings. These will be from (00:00) to (00:00). You will have a lunch hour break from (state time) to (state time). There will be breaks throughout the day (state these). We hope that these new timings will not cause any inconvenience to anyone.
The new timings will come into effect from (state the date) onwards. You are all instructed to follow the timings diligently.
Sincerely,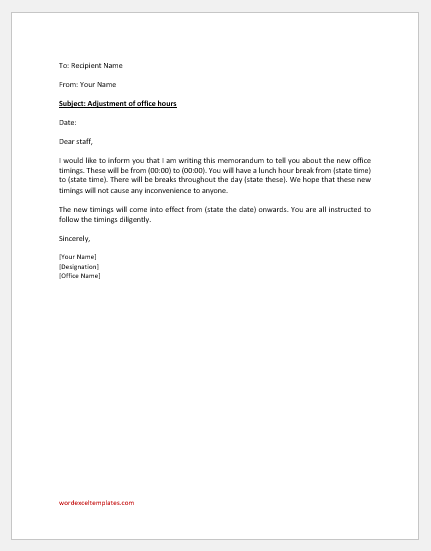 File: Word (.docx) 2007+ and iPad
Size 18 KB