Recording attendance of employees in any organization is the basic necessity. This helps the company manage the participation of every person in the seminars, classes, meetings, and any other special event. There are certain types of events that require the people of the organization to attend them.
For example, if a company is conducting a training program, the employees of the company are required to participate in those programs so that they can learn special skills that are needed to work more productively in the organization.
The holiday attendance record form is used to record the attendance of all those people who attended on the holiday. In some organizations, certain people are asked to come to work on holiday also.
Extra money is paid to them on attending the workplace on holiday. For example, in many organizations, the security guards are asked to come on holiday in order to ensure the security.
There are some places which are visited on holidays such as a church. These places are usually visited by hundreds of people. Recording attendance at these places is essential as it ensures the security of that place as well as the visitors.
The holiday attendance sheet is useful when you want to record the attendance with complete accuracy.  The attendance record form is usually prepared in an MS Word & Excel spreadsheet.
It is very beneficial to use the holiday attendance record sheet since it allows users to customize it. You can also create this record form in MS Word.
Benefits of holiday attendance sheet:
This sheet has many benefits such as:
The record of all the attendees can be tracked easily through the use of this form
The security of the organization is ensured when the presence of every person is tracked
Some employees are paid for showing up on holidays. In such situation, the record form is used for calculation of the salary of the employees
This form can also be kept in the record to make a survey report and can be compared to the report made each year
Holiday attendance record sheet template:
There are different rows and columns in the template for collecting a different type of information about the attendees. The purpose of the template is to collect as much information as possible. This template includes the details about the name, contact details and many other details of attendees.
The template can be customized according to the needs of the user which enables the user to add or remove the details as per her requirements.
There are varieties of formats that can be used while creating holiday attendance form. The format you like can be incorporated into the attendance record sheet that you create for your organization. However, if you don't know much about the format you can download a ready-to-use template. A template is a simple tool that enables the user to record the details more effectively.
#1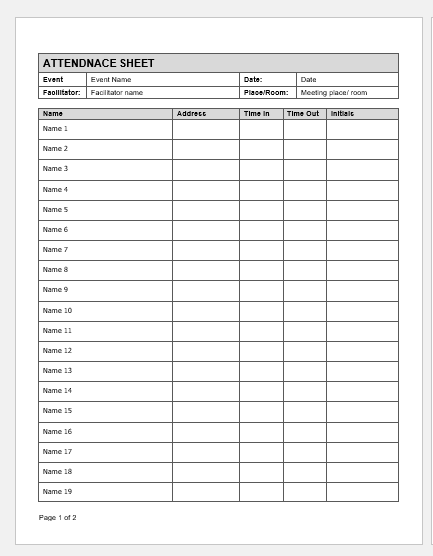 Format: MS Word
File Size: 63 KB
Download Extension: [.docx]
Download
---
#2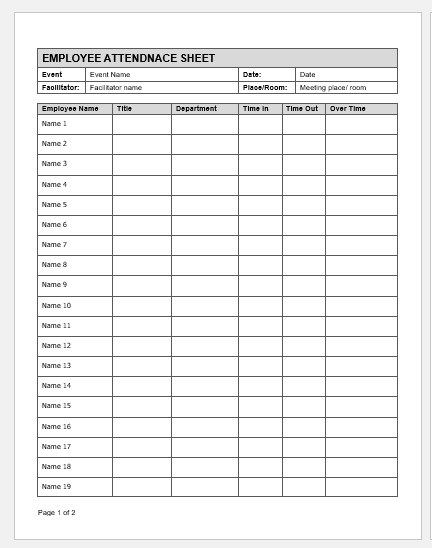 Format: MS Word
File Size: 64 KB
Download Extension: [.docx]
Download