Many charitable organizations conduct different types of events such as seminars, concerts, etc. The purpose of conducting these events is to collect funds for less privileged people. Such organizations are required to write the charity concert proposal if they want to collect funds by organizing a concert.
What is a charity concert proposal?
A charity concert proposal is written in order to grab the attention of affluent people of society so that they can give funds to the organization. This proposal outlines all the details regarding the concert.
The proposal also tells how the donations will be helpful for the pitiable people and what will be the improvements in the lives of such people. The recipients of the charity concert proposal are those people who are interested in making donations for a good cause.
What should be included in the charity concert proposal?
This type of proposal should include:
Name of the charitable organization
It is important to mention the name of the organization conducting the concert since there are many organizations working for a similar cause in the same way. This section of the proposal should also include the name of the person who is supervising the whole concert.
Date of concert
The date on which the concert will be conducted is the most important detail to be mentioned in the proposal. If you are inviting the recipient to the concert, he should be told on what date the concert will be held.
Main objective of the concert
The person who you are requesting for the donations should be told about the purpose of the concert. Many people are interested in getting information about the purpose before making any donation so that they can ensure that their donated money does not go wasted.
Overview of the concert
Since you are writing the concert proposal, it should be ensured that you provide the details about the concert briefly. A complete overview of the proposal should be given which includes the background of the concert, name of the person inaugurating the concert, name of the famous personality who has been invited to the concert for live performance, name of all the chief guests, etc.
The basic theme of the concert should also be mentioned. How the concert will be ended and what message it is intended to convey apart from the entertainment is the important thing to add to the concert proposal.
Estimated cost of conducting the concert
The total amount of cost that will be spent on the concert is included in the proposal. This is the cost the charitable organization wants to be refunded through donations.
The proposal should be written in such a way that it can grab the attention of the reader. It should be persuasive so that the reader can be convinced about making donations for the concert. At the end of the proposal, provide your contact details that the reader will use to contact you for additional information regarding the concert.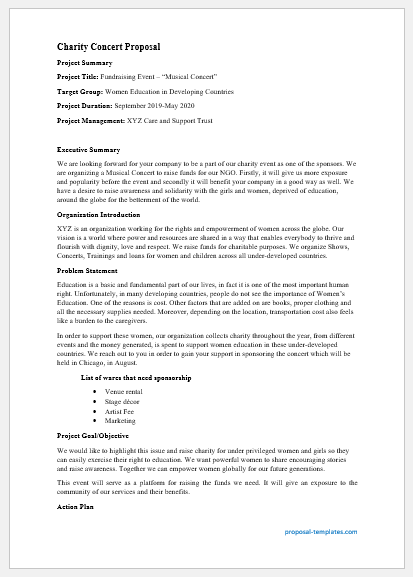 File: Word (.doc) 2007+ and iPad Size 38 Kb |
Download
License: ENERGY (Personal use only)
(Distribution) by Kate Elizabeth(CEO)
---