Re. Character Reference Letter for [Mention the name of the Going-to-be Married Couple]
To whom it may concern, my name is [mention your name], and I am a permanent resident of [mention your precise address, including city and state]. I find my privilege in writing this letter referencing the sound character of [mention the couple's name] and sending it to the US Immigration Association (USIA).
I live near [name one of the spouses you know] in the [name of the town]. I have been living here for ten years and know them closely. I am a close friend of both of them. They have been in a relationship for three years. Both of them are very close to each other. They have been planning to get married for more than six months. They could not do so because of the death of their relatives. However, they are getting married in [mention month]. The date will be confirmed after approval from the immigration office.
They are very generous, kind, and warm to each other. They love each other from the bottom of their heart. They plan to spend a life full of pleasures and excitement together. They have chalked out their plans together. They understand each other very well and are compromising. They support and respect each other's decisions and are empathetic. They are loyal, honest, and respectful to each other. They are overly excited to get married.
After marriage, [name 1] plans to settle in the [name the state and city] with [name 2]. They will work together to build a life filled with joy and comfort. I was hoping you could approve this character reference. Please accept my reference. I am sharing with you my ID card and residence.
In case of any further information regarding this letter, you can contact me at [phone number] or [email address]. Thank you.
Regards.
Yours Sincerely,
[Signature]
[Date]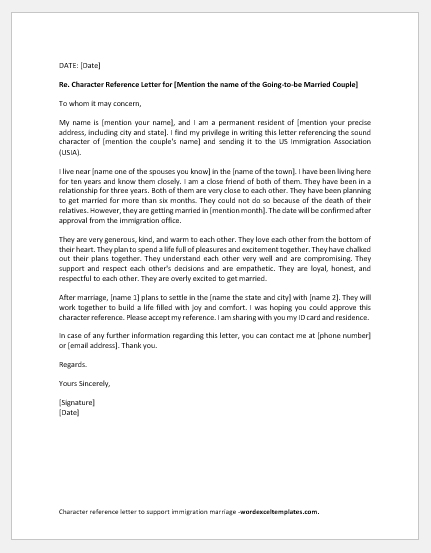 File Type Word. Size: 45 KB
Sample -2
Re. Character Reference Letter
Dear Manager,
I am writing this letter as a reference to the character of Mr. [name] and Ms. [name], who is getting married, in [mention month]. I have known both of them for five years. We were class fellows while studying at the [name the university]. We were batch mates in [name the program] and worked together for one year on project management and business development strategies.
Having spent enough time with them, I am in a position to give references for their character. Both of them are very happy and excited to get married. I know their families and have met them in person. Their families are also very happy with this marriage and support their decisions.
Mr. [name] and Ms. [name] is honest and loyal to each other. They are compassionate and gentle to each other. They are the best fit for each other and make a great couple.
I request the immigration office to approve their marriage approval request. I am in the capacity to provide further information if needed. Please let me know if I need to follow any more instructions. I have enclosed documents to prove my identity and close relationship with [name] and [name].
Thank you so much for your attention and participation.
Truly,
[Name]
[Residence]
[City, state]
[Signature & date]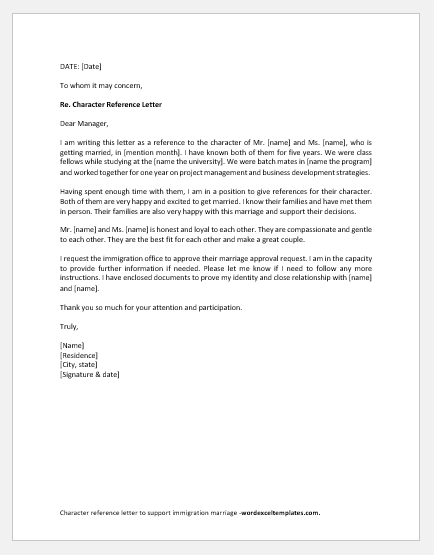 File Type Word. Size: 45 KB
See also: