Slips and Formats
Petty cash is a few specific funds in the form of cash utilized for various expenses because of many reasons, such as inconvenience and cost of writing, signing, etc. It is a common way of accounting for the petty expenses. To create initial funds for the needs of business, a check is issued for the desired amount. Usually, an amount of $100 to $200 is sufficient for the business needs and small expenses. The initial fund for the petty cash is entered in the financial books as petty cash debit and bank account credit. After making an expense, the custodian of the fund reimburses the employees and receives a voucher for petty cash in return.
Uses of Petty Cash Request Slip:
If you want petty cash, then you have to use a petty cash request slip that is designed for your help. The employee can fill it and make a request for the petty cash for the small expenses of the business. The petty cash request slip template is designed according to the accounting standards; therefore you can use it to get petty cash. There is no need to pay any cost because you can download it with the help of given below link. It is easy to use and you can modify it according to your needs. Feel free to make some amendments in it as it is designed in a user-friendly format. You can write the date, cash limit, description of need, account number and different other contents according to your needs.
Preview and Details of Template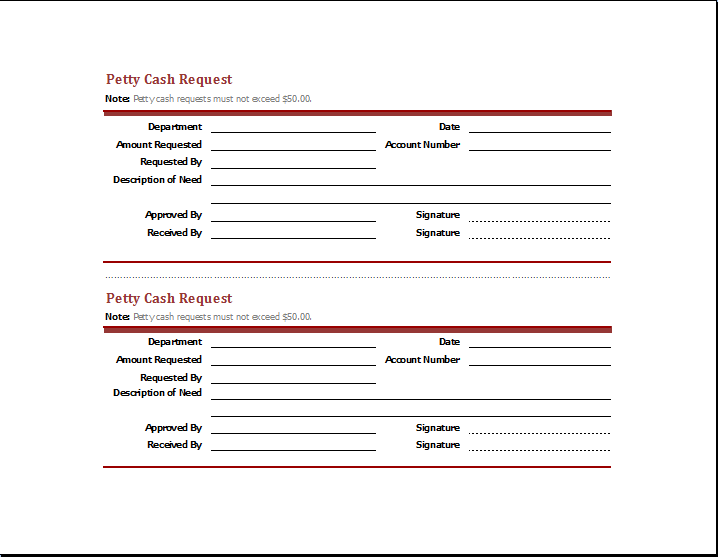 File: Excel (.xls) 2007+ and iPad 
Size 52 Kb   |   Download
File: OpenOffice (.ods) Spreadsheet [Calc]
Size 17 Kb   |  Download
License:  (Free Use)
(distribution) by Kate Elizabeth(CEO)