CASH PAYMENT RECEIPT TEMPLATE
Money is paid or received whenever you purchase or sell a product or service. A cash payment receipt gives the proof that you bought a product or hired a service and paid for it. It can be a premium or complete payment at one time.
A cash payment receipt is an instrument which shows when, where, why and by whom the payment was made and received. A payment receipt can be useful for many purposes, from record keeping to stock and ledger maintenance, from tax filing to tracking of shipment and claiming refund etc.
The information displayed in a cash payment receipt can vary from company to company and the purpose and mode of payment. But a general pattern that is common in all of the payment receipts can be found in this cash payment receipt template. The receipt template shows the following data:
The name of the company
The logo of the company
The address of the company
The date the payment was made
The reason for the payment
The amount of payment
Whether the payment was made in one go or installments
The mode of payment: cash, by cheque or by credit card
Signature of the person who received the payment
Company stamp authenticating the payment
Cash payment receipt can be used or asked for any time by the customer or the service provider depending upon the requirement and issue at hand. The receipt can be provided on demand of the customer or as a routine with every purchase. But professional companies and stores provide it with every purchase to avoid issues later on.
PREVIEW AND DETAILS OF TEMPLATE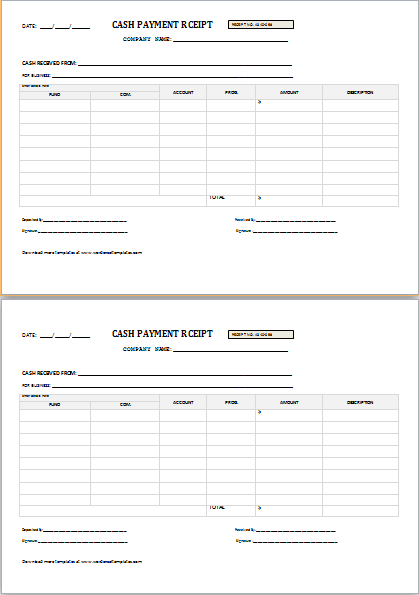 File: Word (.doc) 2007+ and iPad 
Size 81 Kb   | Download
File: OpenOffice (.odt) Writer [Writer]
Size 15 Kb   |  Download
License: ENERGY  (personal use only)
(Not for Resale & Distribution) by Kate Elizabeth(CEO)