In this new era of technology, everything is changing at a very fast speed. Till yesterday, the technologies which were very famous are obsolete and no more in use. Products and services are being developed rigorously. With the processes being automated and revolutionized every day, the quality assessment has also become a very important factor that has indicated the need for more quality assurance specialists.
Every product or service is developed with an objective to achieve. Quality assurance means to make sure that the product is achieving its goals with the best possible quality. Most of the companies nowadays have a dedicated quality assurance department that reviews all the processes and adds to the confidence of the customers.
A quality assurance specialist is a person who has a lot of focus on the details. He has to make sure that the product or service is tested and tried for defects before it goes into the hands of the customers. Companies are investing in the quality assurance departments as the repute of any company lies in the product or service they offer.
A technology quality assurance specialist is a person who has a keen eye and is able to develop and analyze new processes. A master's degree will be highly preferred in this field with the experience of a few years.
Sample Resume
Summary:
Quality assurance supervisor with experience of 10 years in the industry. Worked with diverse managers and senior management to improve operational processes. A well-grounded knowledge of operations. Made valuable recommendations for better performance of processes, production, and manufacturing. Prepared a schedule of testing various processes and operations every month. Prepared reports for senior management.
Trained new hires to conduct tests on products and services. Addressed quality, production, operational and efficiency problems. Understanding and use of statistical data. Acted as a catalyst for change performance and helped the staff to achieve maximum effectiveness. Ensured that the processes comply with the industry and company standards.
Objectives:
My objectives in this job are/were:
To detect, prevent and recommend improvements in the processes.
To establish procedures and quality standards.
To monitor the procedures against agreed quality targets.
Work Experience:
[ABC Company]
My roles in this job are/were:
To determine, negotiate and implement in-house quality procedures and standards.
To understand the customer requirements and make sure they are met.
To specify quality requirements with the clients and team members.
To train and supervise the technical staff.
To monitor the performance of the department.
To record, analyze and distribute statistical information.
To work with operating staff to establish procedures.
[XYZ Company]
My roles in this job are/were:
To train and prepare new hires for quality inspection.
To assist in the development and implementation of improved procedures.
To prepare evaluation reports and submit them to the management for review.
To work with other departments to identify process malfunctions.
To consult with department heads to improve the operational procedures.
To educate and instruct the staff to recommend quality control testing.
Skills:
Communication proficiency.
Decision-making skills.
Problem-solving ability.
Technical knowledge.
Project management.
Reference:
To be provided on demand.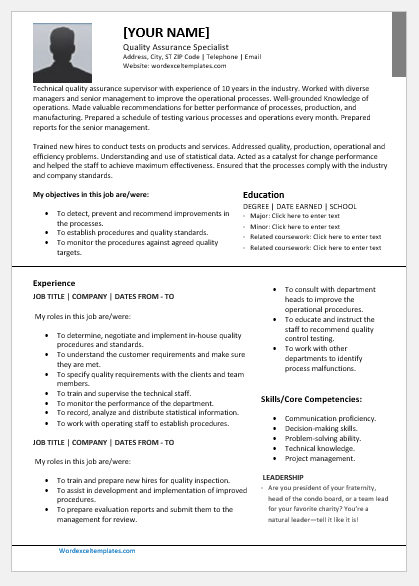 File: Word (.docx) 2007+ and iPad Size 76 Kb |
Download
---