Re. Request for Leniency
Respected Judge, this is [Name of the convicted], resident of [precise address]. I have been convicted of behavioral violation at my office due to the conflict that originated from the project mismanagement. The administration reported to the police my behavioral violation accusing me of breaking office equipment and fighting and abusing office employees including women workers.
However, the case is under consideration and proceedings have not been completed yet. The investigation officer is collecting more witnesses and clues from the place of the fighting. According to the senior investigator, it will take one more week to complete the process of data collection and adding evidence to the online database of the criminal proceedings system.
The police have put [mention the specific article and section] charges on me whereas the fight was incited by other agents. I admit my unusual and violent behavior but there are plausible causes behind my enraged behavior.
First, I have been working in this office for the past eight years. During these eight years, I have never committed any violation and always demonstrated dedication, professional demeanor, and competence.
Second, the current accusations include behavioral violation, breaking office equipment, spreading fear and terror among office employees, misbehaving with female workers, harassing the employer and executive officers, and office security.
Your honor, the accusations are false and fabricated. The actual story goes behind project mismanagement by the team and executive mishandling. I was enraged by the act as all my hard work and reflections on the project were sent into the bin and overruled as my incompetence. It caused an argument among the team of project management.
The employer intruded on and abused me by catcalling. He shouted and when I stopped him from insulting me, he slapped me. In response, I slapped him. He called the police and fabricated a story to cause harm to my rapport.
As the proceedings are undergoing investigation and data collection, I request you be kind and lenient and allow me to work. As it is clear from the unfortunate incident, I will not be able to work at the same place and it will take me extra work and much research to hunt for a job.
Having all this described, I request you to release or reduce the charges on me. I promise you to never do this again and always stay sane and professional in the scenarios causing disputes.
Thanks in advance for your consideration.
[Name]
[Date]
[Signature]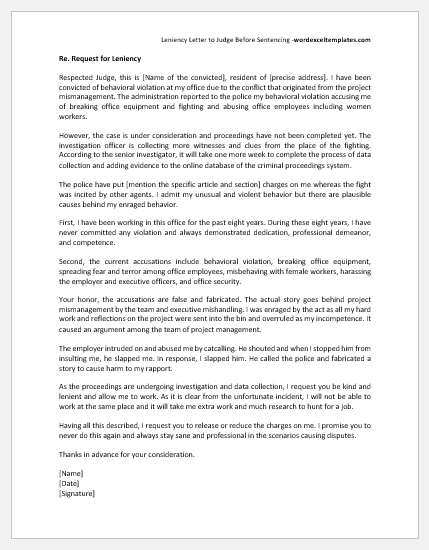 2-
Re. Request for Leniency in My One-Week Sentence
Honorable Judge,
I am writing this letter with high hopes of getting leniency in my sentence which is one week. Recently, I was sentenced to seven days imprisonment with a $[X] fine. Sir, I have paid the fine and will be sent to prison for seven days today after 13:00.
The charges against me include misbehaving with a police officer which caused terror in the surrounding area. The dispute started from the argument developed from wrong parking. The officer put a ticket on my wrong parking for which I started telling him that there was no other space to park. I was with my wife and we were out for groceries However, the argument turned into abusing each other on which the officer charged me with [mention the section and article no.] of the Criminal Code.
I confess I was wrong and my misdemeanor caused fear in the surrounding area. There were kids and women around the supermarket area. I am very much ashamed of my act of abusing the police officer in front of kids and women. I also apologized to the officer who, being very kind, forgave me.
I request you to, please, show some leniency in my term of sentence by reducing the seven days imprisonment to two days. I will be very grateful to you if you do so.
Thank you.
Best,
[Name]
[Signature]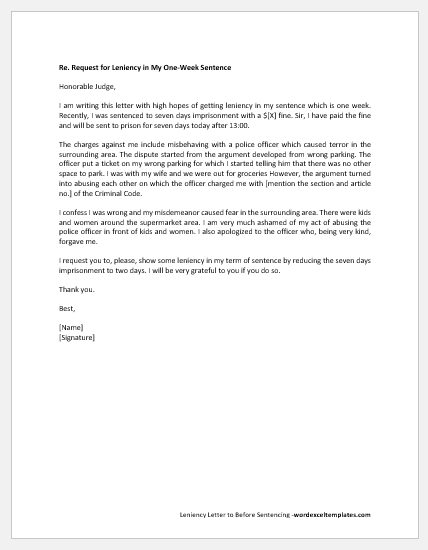 See also: