Ever since the Coronavirus hit the world, working from home trend has become very common. The coronavirus epidemic requires people to do social distance. Due to this, many companies have been closed and are now operating over the internet.
Different employers are assigning different job responsibilities to their employees through email or some communication apps such as Skype, Zoom, etc.
Why working from home
Almost every country has shut down many industries because of Coronavirus because it requires people to do social distance. A business can't stop operating and start waiting for the Corona epidemic to go away. Therefore, these businesses have set up a virtual working environment which is the same as the physical workplace. The only difference is that people working from home are not physically present.
Many people feel it is very convenient to work from home because they feel that it gives them more freedom and makes them feel more relaxed. However, they should know that they need to discipline themselves no matter where they work
Why working from home rules should be used?
It has been told earlier that many employees take their work from home very lightly and most of them also don't become productive because of their misunderstanding about working from home. Due to his behavior of the employees, many companies make some policies and rules for the employees so that they work with a serious attitude.
Sometimes, people also use work from home rules just to make themselves more disciplined and punctual. No one imposes these rules on them. However, they try to follow those rules
If the company makes those rules, it emails those rules to everyone working from home for the company. Many companies simply use the template of working from home rules and share it with everyone working from home
How to write working from home rules due to Coronavirus?
When a company encourages it, employees, to work from home, it should all of them that how important it is for them to stay at home and keep themselves safe and healthy from the Corona outbreak.
You should also give reasons to your employees why you have decided to start the system of working from home. Some of the common reasons in such situations are
To help the government in preventing the spreading of Coronavirus from person to person
To make sure that there is no disruption at the workplace since Coronavirus outbreak has caused a lot of disturbance and everyone is now living with the fear
To make sure that the employees are safe at their home.
To make every employee work from home for the company to make the company operate as smoothly as it used to before the outbreak
After giving the reasons, you should tell your employees the importance of employee's work from home. This is usually done to avoid the non-serious attitude of the employee. The employee should be told that his work is important for the company. This can be done simply by making a system and setting some rules and policies that every employee is required to abide by.
Mention all the rules and policies in bullet points. Before writing the rules, you should make sure that the rules being defined are possible to follow and the employees will find it easy to follow them. For example, you should ask the employees to use different devices that may not be possible for every employee to afford. If the company is giving its own devices to the employees, the employees should be told to take care of them.
Working from home rules -template
For many companies, the culture of working from home is new and a different thing. Therefore, they don't know which policies to define to their employees to make employees as disciplined as they used to be at the physical workplace.
For such people, a template with rules and policies is available. Individuals can also follow the rules mentioned in the template to discipline themselves.
Identify the ground rules of work from home
Set a schedule if your work requires certain timings. Know the rules of internet access because some organizations do not allow using public Wifi networks due to privacy concerns. Ensure you have all the required work equipment such as laptops, mobile phones, etc. and tech tools such as Zoom, Microsoft Team and Google hangouts from a group chat, conferencing and collaboration. Do a trial run and work out problems that may affect your work.
Everyone does not have a private home office, but it is necessary to have a quiet space having a bright light setting, fresh area and some basic office setup like table, chairs and required documents and files. Separate your workspace and personal space to do your work efficiently.
To have a better connection use Ethernet, but nowadays most of the laptops do not have Ethernet ports to connect your device with the router. If you are using your home internet, you may face a slow internet connection due to the number of users. Use dongle or any other device which is not shared with anyone else and separate the personal and work internet service. 
Download all the applications on your phone that you need for work such as Google, Hangout, Business WhatsApp and Zoom, it is convenient to use for a chat and calling purposes. It is best if the job involves making international and long-distance calls as the phone allows calling over the Internet across the world at a cheaper price.
If you have kids and pets at home or a building is being built just across your house, buy a noise-canceling headset. And if you are without childcare and the kids are at home, you and your spouse take turns to take care of them; then you have to talk to your manager to set a working hour that suits you best.
Engage in some extra social interaction:
Everyone loves the idea of working in solitude, but we start to feel suffocated after a few weeks at home, all alone and working on the same project for long hours. It can get a little stressful. Be prepared for that and try to have some interaction with the outside world, like a work out class, a chit chat to a friend or a dinner date.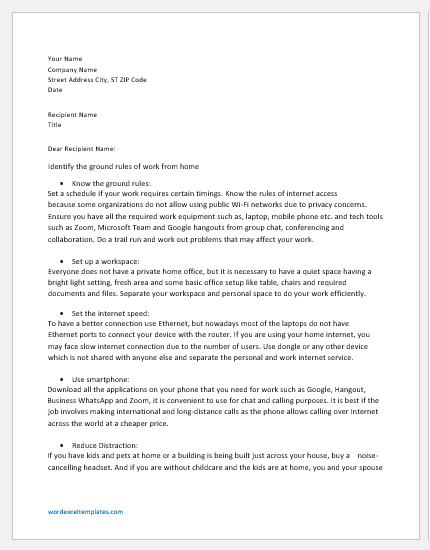 File: Word (.docx) 2007+ and iPad
No. of pages = 2
Size 35 Kb |
Download
---