No doubt, calendars are the best tools to be used for planning. Whether you need to plan anything on a monthly basis or a weekly basis, the calendar makes it easy for you. What if you get a dedicated calendar to be sued for weekly planning?
Importance of weekly planning calendar
Planning and scheduling is part and parcel of our life. We cannot imagine a single day of our life without proper planning. Therefore, we all try to keep the calendars always at hand. However, often the calendar that we have in our devices is based on the division of days every month. These calendars are good to be used when you want to use them casually.
If you have a very special event your way and you want to get prepared for It in a week, you can use the weekly planner calendar. The weekly planner calendar is similar to the ordinary calendar. However, in this calendar, the weeks are emphasized more. The user of the calendar can easily see where the week is starting from and where it is ending. This helps in scheduling certain things
What are the benefits of using a weekly planning calendar?
It makes you more productive
Planning of any sort plays a role in making the person productive. Being productive means doing everything right and in the right fashion. If you have scheduled all the tasks that you wanted to accomplish, you will be more productive. Weekly planning calendar keeps telling you about the deadlines, the number of tasks yet to be completed in a week and much more so that a person keeps accelerating towards his goals.
It helps in effective planning
When you have used a weekly activity and schedule calendar, you will be able to keep a balance between your work life and personal life. In this way, you will be able to manage your entire week in such a way that you will get enough to do your work and spend time with your family. The weekly planning calendar helps a user distribute all his responsibilities among the number of days in a week. This enables the person to save a lot of time for many other things.
It helps in tracking the tasks
If you have a multitude of tasks to execute and many deadlines to meet, it is important to keep track of all those tasks so that you don't go off the track. The weekly planning calendar keeps telling you about which task needs more attention and which task is almost completed. In this way, you will come to know which task is needed to be submitted earlier. Meeting deadlines with the use of a weekly planning calendar is a piece of cake.
 Weekly planning calendar template
If you want to use the weekly calendar for your weekly plans, you can download this calendar on your device. If you download it on your mobile, you will be able to access it whenever needed.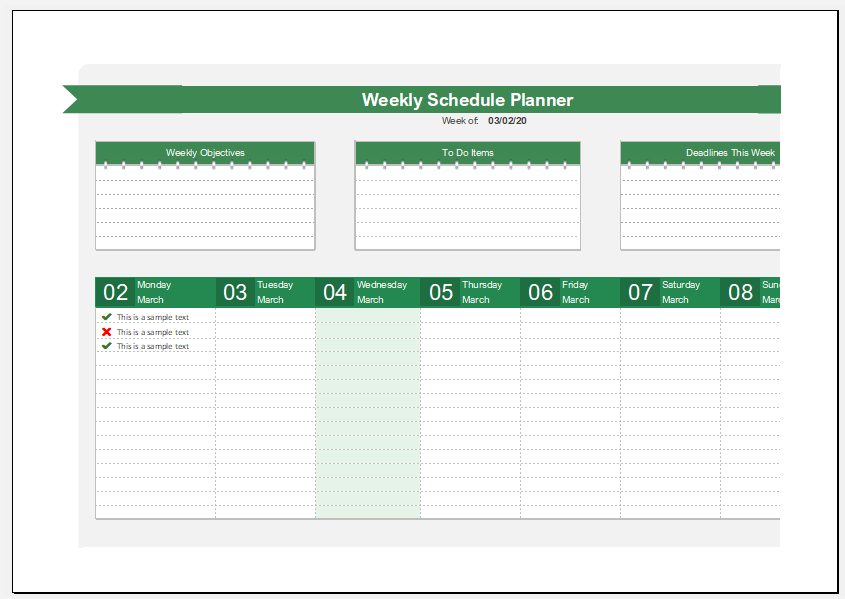 File: Word (.docx) 2007+ and iPad Size 41 Kb |
Download
---