About vacation calendar
This calendar is just like any other simple or common calendar, but with all the applied and expected vacations pinned on it. This calendar can keep a record of upcoming vacations along with its duration and requests put forward. This vacation calendar can be used in offices and even in the household, so it will not be wrong to say that this vacation calendar has a wide range of users globally.
Significance
Usually, vacations are planned by everyone with a bit of enthusiasm and zeal. Everyone wishes to have their free time and to enjoy it without a mess. For this purpose, there should a something that keeps on reminding the person about the upcoming offs and for how long they will last apart from how much he is left to apply for. With that being said, vacation calendar can come a lot handier than any other tool. This calendar can label all the utilized, applied, upcoming and every kind of vacation just on one sheet. It can either be monthly, quarterly or even years depending upon the need of the user. It is commonly used in offices where it is difficult to keep a record of every employee's holidays. It is vastly used by individuals to keep an eye on their vacation schedule.
Template
Although every person or business follows different techniques for each tool they use, a wise approach is to use a standard template so that it gets easier to change it according to the need without missing an important minute detail. The simplest template that is most common among businesses comes in the form of a table. There should be two main columns, the first column should be allocated to the name or ID of the employees. The second column is to be allocated to each month. The second column is to be divided into days of the month starting from 1st to the last day. The calendar should also describe the colors or patterns it will use to mark a different kind of holidays. This helps in making the vacation calendar user-friendly.
In the given calendar mark the holiday with your favorite color and put detail in the table given at the bottom of the page. One example is given to help you get to start with it.
Preview and Details of Template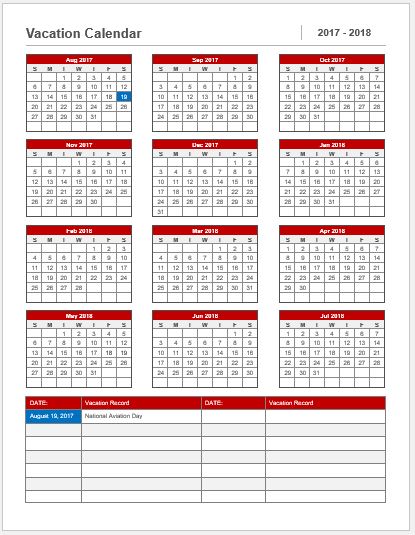 Vacation Calendar Template 2017-18
File: Word (.doc) 2003+ and iPad 
Size 76 Kb | Download
License: ENERGY [Personal Use Only]